Senators urge DOJ to flex debarment authority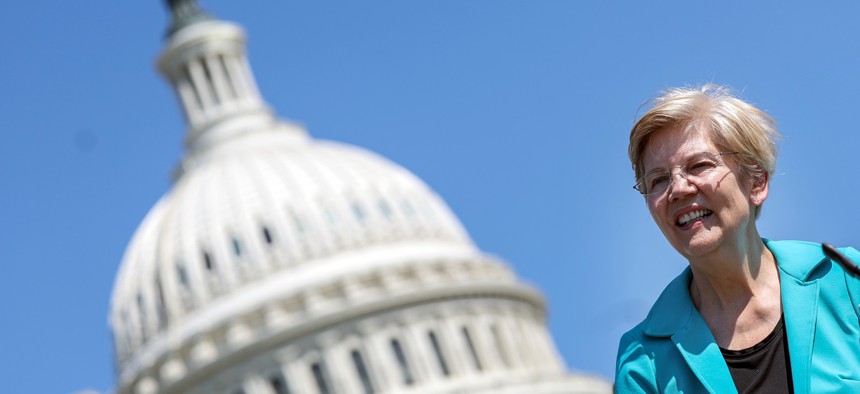 According to two Democratic senators, the federal government is "failing to use key tools in its arsenal against corporate criminals."
Sens. Elizabeth Warren (D-Mass.) and Ray Lujan (D-N.M.) urged top Department of Justice leaders to leverage suspension and debarment authorities against federal contractors who are found to have defrauded the government, who enter into settlements in civil cases or even who are suspected of misconduct based on a "preponderance of the evidence."
In an Aug. 11 letter to Attorney General Merrick Garland and Deputy Attorney General Lisa Monaco, the lawmakers said that "even companies that engage in massive, years-long schemes to defraud the public are allowed to continue to do business with the government." They cited three recent instances in which contractors agreed to multimillion dollar settlements or fines to settle misconduct cases but continued to maintain their government contracts.
Suspension and debarment authorities are rarely leveraged by the Department of Justice. According to a governmentwide report covering suspensions and debarments, DOJ issued three suspensions and eight debarments in FY2020. 
"Despite this broad authority, the Department has historically failed to deploy its suspension and debarment power," Warren and Lujan wrote. "This reluctance has undermined the goals of debarment regulations and allowed unscrupulous contractors to continue ripping off the government. "
The lawmakers want DOJ to focus suspension and debarment actions against companies and not just individuals, ramp up the use of governmentwide debarments, consider the use of debarment for misconduct that is not necessarily related to contracting activity and increase the use of suspensions to protect government interests while investigations are underway.
"While the department may have historically viewed debarment as an alternative to prosecution, a stronger debarment regime would deter bad actors from engaging in unethical future conduct. Indeed, precisely because debarment is meant to be protective and not punitive, debarment and prosecution should be complementary efforts," the lawmakers stated.