Author Archive
Kellie Lunney
Senior Correspondent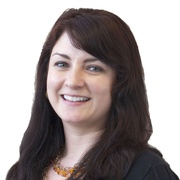 Kellie Lunney covers federal pay and benefits issues, the budget process and financial management. After starting her career in journalism at Government Executive in 2000, she returned in 2008 after four years at sister publication National Journal writing profiles of influential Washingtonians. In 2006, she received a fellowship at the Ohio State University through the Kiplinger Public Affairs in Journalism program, where she worked on a project that looked at rebuilding affordable housing in Mississippi after Hurricane Katrina. She has appeared on C-SPAN's Washington Journal, NPR and Feature Story News, where she participated in a weekly radio roundtable on the 2008 presidential campaign. In the late 1990s, she worked at the Housing and Urban Development Department as a career employee. She is a graduate of Colgate University.
Digital Government
In the 21st century, every agency's mission rests heavily on officials with a "high tech IQ," Shaun Donovan said in his White House exit memo.
Digital Government
Data collection and reporting on telework remain a "challenge" for agencies, says OPM.
---
Digital Government
Watchdog identifies problems with IT, personnel readiness related to federal telework and continuity of government operations.
Digital Government
A fledgling law is aimed at holding the government more accountable for waste, fraud and abuse.
Digital Government
Press conferences, Twitter help agencies disseminate information on tsunami effects in the U.S.
Digital Government
OPM does not collect data on how many employees participate in training program, or how much it costs the government annually.
Digital Government
Initiative is the department's latest effort to promote international dialogue among young people.
Digital Government
The popular guide to more than 8,000 federal civil service positions will be available on Nov. 12.
Digital Government
Homeland Security agency aims to improve e-filing process for those seeking U.S. citizenship.