Author Archive
Jack Corrigan
Staff Correspondent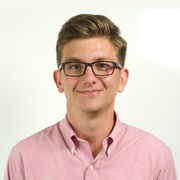 CIO Briefing
The SEC is doing IT differently than it used to in the name of innovation.
IT Modernization
The Enterprise Infrastructure Services contract is a great opportunity for agencies to modernize, but they need to focus on people and planning to do it right.
Emerging Tech
DHS may soon use blockchain technology to protect all sorts of data it collects in protecting U.S. borders.
Emerging Tech
That includes looking at tech that connects patients with providers.
Data
The Health and Human Services Department would have to build a dashboard to share information about substance abuse, treatment and recovery.
Cybersecurity
Officials are looking to isolate the internet from agency networks by pushing web browsing to the cloud.
Emerging Tech
The agency's prepping for a trip to the moon as soon as next year.
Emerging Tech
The IC is exploring whether polymers could be the future of data storage.
Emerging Tech
The Summit runs roughly eight times faster and five times more efficiently than America's most powerful supercomputer to date.
IT Modernization
Agencies that want a shot at funding had better make their proposals interesting.
IT Modernization
The VA Digital Service thinks veterans shouldn't have to know the agency's bureaucracy to find the benefits they're looking for.
Cybersecurity
Leaving Congress alone to regulate the tech industry may not be the best idea.
Data
The agency has a new strategic plan for how to manage, store and analyze its scientific data.
Emerging Tech
They've also been faster and safer than putting boots on the ground, a department official said.
Emerging Tech
The agency's goal is to get ahead of emerging tech.
Emerging Tech
The National Geospatial-Intelligence Agency can bring innovative software tools to government in as little as a few months.
Cybersecurity
The Defense Department's fifth bug bounty awards $80,000 for spotting security holes in a travel system used by millions of the agency's employees.
Emerging Tech
The agency is looking at ways to speed up passenger screening while improving security from "curb to gate."
Emerging Tech
An upcoming workshop will teach feds how best to pitch projects to a board of administration officials.
Cybersecurity
The agency has only made modest progress on longstanding issues.