Author Archive
Jack Corrigan
Staff Correspondent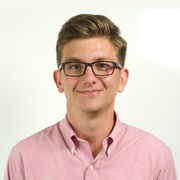 CIO Briefing
He'll be responsible for leading the Pentagon's data strategy.
Emerging Tech
International travel at the Mineta San José International Airport has doubled in recent years.
CIO Briefing
Deputy Director Stacey Dixon will take the helm.
Emerging Tech
The agency is challenging teams to build systems that chart caves, tunnels and underground urban infrastructure.
CIO Briefing
The agency wants to pull disparate intranets together and allow two-way communications with employees.
CIO Briefing
With a backlog of more than 700,000 pending investigations, the groups are pushing for tools to speed up information collection and ways to reduce redundant investigations.
Cybersecurity
"Hack the Marine Corps" kicked off with a live-hacking event in Las Vegas.
Emerging Tech
A yearlong pilot program will see if AI can predict when components on Bradley Fighting Vehicles will break.
CIO Briefing
The General Service Administration and Office of Personnel Management lowered the access fees on the $11 billion training vehicle.
CIO Briefing
Officials renamed the Defense Innovation Unit Experimental to show the permanence of the program.
IT Modernization
A ProPublica investigation found three advisers weighed in heavily on the hiring and firing of high-level tech leaders within the agency.
IT Modernization
The effort comes as VA reworks its entire online presence to make services more accessible and user-friendly for some 9 million veterans.
Cybersecurity
An internal investigation found the agency's commenting system was knocked offline by "system design issues" and "'flash crowd' activity," not hackers.
Data
The award comes as officials work to get preparations for the 2020 count back on track.
Policy
The device-agnostic policy applies to smartphones, tablets, fitness trackers, smartwatches and all other applications with geolocation features.
CIO Briefing
Top national security and intelligence leaders pledged to defend the country from foreign influence campaigns.
By

Joseph Marks and Jack Corrigan
CIO Briefing
ACT-IAC unveiled a playbook for overhauling citizen-facing services.
IT Modernization
The program will be a model for other agencies to surge outdated IT into the 21st century.
IT Modernization
DISA is offering new unclassified services to Defense Department mission partners.