Author Archive
Jack Corrigan
Staff Correspondent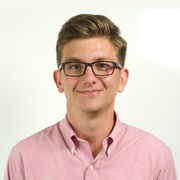 Emerging Tech
DIUx awarded Dedrone a contract to test the group's drone detection technology at military bases across the country.
Emerging Tech
But keeping up with criminals' tech innovation can be challenging.
Data
New and old flaws in systems at a Treasury Department bureau added up to "a significant deficiency," according to the Government Accountability Office.  
Emerging Tech
Don't miss the forest for the trees, General Services Administration's emerging tech official said.
Emerging Tech
The Office of Personnel Management will look at how to retrain the employees affected.
CIO Briefing
Scott Blackburn joined the VA in 2014 and served as acting CIO since September.
Policy
Tech companies, experts argued, aren't really going to police themselves.
CIO Briefing
They also push a wave of privacy bills post-Facebook's Hill visit.
By

Joseph Marks and Jack Corrigan
Policy
Mark Zuckerberg's marathon testimony foreshadowed that regulations are coming.
CIO Briefing
The agency's early outreach efforts appear to be paying off.
Emerging Tech
The initiative aims to cut through the "bureaucracy" that blinds federal techies to other agencies' projects.
Cybersecurity
Agency officials hope the competition will draw more young tech talent to the government and energy industry.
Policy
National security and economic growth depend on a free and open internet, U.S. Deputy Chief Technology Officer Michael Kratsios said.
Emerging Tech
The department plans to develop at least two exascale supercomputers that would be more than 10 times more powerful than today's reigning supercomputer.
IT Modernization
The Government Accountability Office expects the system to be more efficient.
Emerging Tech
Women are more than twice as likely as men to say they don't want the government collecting any of their biometric information.
Emerging Tech
The quiz is part of a step-by-step guide for vendors and agencies looking to bring blockchain to the government.
Cybersecurity
Ethical hackers will scour the platform for security gaps in the department's fifth bug bounty program.
CIO Briefing
The department wants to screen five years of social media and email from all visa applicants but doesn't expect longer processing time "for most visa cases."