Author Archive
Jack Corrigan
Staff Correspondent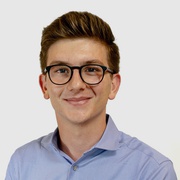 Artificial Intelligence
Self-aware artificial intelligence, biology-based computers and "smart" surveillance are just a few.
Cybersecurity
The agency released a draft binding operational directive that would require all civilian agencies to receive and resolve vulnerabilities identified by public security researchers.
Artificial Intelligence
Selected vendors would help the Joint AI Center deploy its main development platform in the cloud.
---
Cybersecurity
The review, which included locations operated by the National Nuclear Security Administration, revealed multiple cybersecurity weaknesses recurring year after year.
Digital Government
The rotating cast of officials in top tech and cyber jobs could hinder the department's ability to develop and execute a consistent digital strategy.
Digital Government
The Trump administration has been slow to fill positions in its tech policy apparatus.
Cybersecurity
The Cyberspace Solarium Commission aims to have policy recommendations ready to plug into the next defense authorization bill, Co-Chairman Rep. Mike Gallagher said.
Cybersecurity
The PROTECT Act would create a federal grant program to help small utility companies improve their digital defenses.
Cybersecurity
The overabundance of federal cybersecurity leaders is inhibiting the government's ability to rapidly respond to threats, according to Mark Bristow.
Cybersecurity
The agency stopped redacting personally identifiable information in claims requested under the Privacy Act, even though officials knew the policy could leave millions of people vulnerable to identity theft.
Cybersecurity
The decision came in the wake of a Supreme Court decision restricting law enforcement's use of such information.
Emerging Tech
The legislation would require law enforcement agencies to obtain a warrant before conducting facial recognition surveillance.
Cybersecurity
Before using tools provided under the Continuous Diagnostics and Mitigation program, agencies only knew about four of every seven devices that connected to their networks, according to program manager Kevin Cox.
Cybersecurity
The agency is looking to improve a program that lets critical infrastructure operators measure their digital security and see how they stack up against their counterparts.
Modernization
The Foreign Affairs IT Fellowship Program would offer 15 students mentoring, financial aid and guaranteed employment.
Cybersecurity
To secure the government's IT ecosystem, agencies must better understand their tech, the vendors who built it, and those companies' suppliers.
Emerging Tech
Quantum computers could crack the codes that secure the world's digital information but racing to a solution could create more threats, according to Dr. Deborah Frincke.
Cybersecurity
In the U.S., there are only enough cybersecurity pros to fill about 60% of the available jobs, according to industry researchers.
Artificial Intelligence
The Pentagon's IT shop released a list of next year's contracting opportunities, including 12 worth more than $100 million.
Digital Government
A newly proposed bill would require large social media companies to give users the chance to opt out of algorithmically curated content.