Author Archive
Jack Corrigan
Staff Correspondent, Nextgov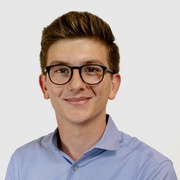 Cybersecurity
The agency is updating identity verification controls for its suite of web applications, but the effort won't be wrapped up until 2023.
Cybersecurity
Creating a unified international response around online attacks will help "establish the legitimacy" of norms for cyberspace, says Rob Strayer.
Emerging Tech
The agency, which plans to have more than two dozen bots deployed by the end of the year, is standing up a community of practice around the technology.
---
IT Modernization
The Career Compass Challenge aims to build an app that matches feds to the tech jobs based on their current skills and interests.
Emerging Tech
The robots would service military, government and commercial spacecraft more than 22,000 miles above the Earth.
Emerging Tech
The bureau has largely ignored the Government Accountability Office's concerns about its use of facial recognition in criminal investigations.
Emerging Tech
The agency is funding efforts to 3D-print hand braces, foot insoles, prosthetic limbs and artificial organs.
CIO Briefing
But the department must wait until at least July 19 to make an award.
Emerging Tech
The IC envisions a system that can stitch together archived and real-time data from satellites, and link it to footage from planes, drones and other aircraft.
Emerging Tech
Sen. Ed Markey's, D-Mass., sweeping privacy framework would limit the amount of data companies collect on users and require more transparency about how it's being used.
IT Modernization
Only two of 22 agencies expected to hit all five of OMB's optimization benchmarks by the end of 2018.
Policy
The Science and Technology Assessment and Analytics team aims to build lawmakers' understanding of emerging technologies and weigh in on tech-centric policies.
Emerging Tech
The Algorithmic Accountability Act would force companies to check whether their tech is making biased, inaccurate, discriminatory or otherwise unfair decisions.
IT Modernization
The agency is already working with Apple to connect medical records to veterans' iPhones, and there are more projects on the horizon, according to CIO James Gfrerer.
Cybersecurity
A bill introduced Monday would create a federal grant program for cash-strapped states that want to bolster their digital defenses.
Cybersecurity
Mastercard, Microsoft, Workday and the Partnership for Public Service launched an initiative that would place highly qualified grads in cyber jobs at federal agencies.
Emerging Tech
The tax agency is preparing to launch a bot that would reduce a critical contracting compliance measure from multiple hours to two minutes.
Emerging Tech
Because AI retrains itself over time, the administration wants to keep tabs on what's happening under the hood.
Cybersecurity
The department is preparing to roll out a new personnel system that will let officials "hire people based on their skill sets, not what's on a piece of paper," said Chris Krebs.
Emerging Tech
The group wants $500 million for the Energy Department's advanced research projects agency, which would be eliminated under the White House's 2020 budget request.