Author Archive
Jack Corrigan
Staff Correspondent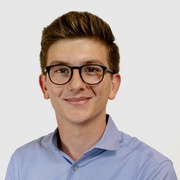 Emerging Tech
The Defense Advanced Research Projects Agency is looking to build artificial intelligence into neural interfaces to let humans control machines with their thoughts.
Emerging Tech
Under a new ruling, law enforcement officers would be able to identify drones from afar.
IT Modernization
The newly redesigned homepage makes it easier for vets to use self-service tools, which will save the government money, according to the agency's digital services chief.
---
Policy
Researchers recommended lawmakers give regulators more power to write rules and punish the companies that break them.
Cybersecurity
Monica Witt, a former Air Force officer and intelligence community contractor, also allegedly disclosed information about a sensitive Pentagon program, according to Justice Department officials.
Emerging Tech
The agency is investing in a smart harness that would monitor the health of Border Patrol's K-9 units.
IT Modernization
The tool, which connects directly to VA's health record database, will roll out sometime this summer.
Emerging Tech
The executive order calls for agencies to focus on AI, but details and funds are sparse.
CIO Briefing
They also introduced bills to bolster counterterrorism efforts, stop robocallers and keep ZTE in check.
Emerging Tech
The Army Research Lab is funding tech that could put the computing power of the cloud in the hands of individual soldiers—and ultimately bring more artificial intelligence to the battlefield.
CIO Briefing
At least 20 ambassadors have used their personal Twitter accounts for diplomatic activities.
Cybersecurity
Security researchers also warn Iran might be gearing up to target U.S. companies with information warfare.
Cybersecurity
Sens. Amy Klobuchar and Dan Sullivan resurrected a bill that would allow the agency to share information on election threat with foreign countries.
IT Modernization
The agency's acting deputy secretary called the project's $16 billion price-tag "an educated guess."
CIO Briefing
If its IT infrastructure is taken offline, the agency could lose access to critical data.
CIO Briefing
And they're demanding answers about Facebook's missteps and the shutdown's impact on cybersecurity.
IT Modernization
The agency is asking for feedback on a new contracting vehicle for the program.
Policy
Rep. Susie Lee will lead the House Veterans Affairs Technology Modernization subcommittee.
Data
Bad actors could use 2016 election interference tactics to suppress response rates in the 2020 count, said Deputy Director Ron Jarmin.
IT Modernization
The agency failed to report an estimated 860 data centers, which violates FITARA requirements, auditors said.