Author Archive
Caitlin Fairchild
Web Producer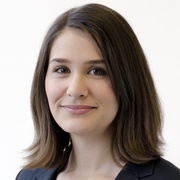 Caitlin Fairchild joined Government Executive in summer 2011 as an editorial fellow, after graduating from the College of William & Mary, where she spent four years writing for the student newspaper, The Flat Hat. In March 2012, she was hired full time as a web producer. She has completed internships at Washingtonian Magazine and at the public affairs office of Nellis Air Force Base in Las Vegas.
Cybersecurity
The lawmakers were among the millions who had their identities stolen to make fraudulent comments.
Data
Prepare to peruse a lot of spreadsheets.
Data
The software returned incorrect matches 98% of the time.
Data
The tech giant has a lot of explaining to do when it comes to their privacy language.
Emerging Tech
Microsoft's new prototype device can track everything you say in a meeting.
Cybersecurity
The new feature could transform direct messaging on the platform.
Emerging Tech
Another fuel for your shopping addiction is now on desktop and mobile.
Cybersecurity
But perhaps this World Password Day will inspire improvement.
Cybersecurity
Military personnel better stick with iPhones or Android devices.
Data
You won't be able to lie about your exercise habits anymore.