Author Archive
Caitlin Fairchild
Web Producer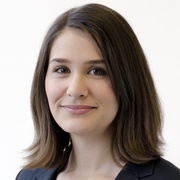 Caitlin Fairchild joined Government Executive in summer 2011 as an editorial fellow, after graduating from the College of William & Mary, where she spent four years writing for the student newspaper, The Flat Hat. In March 2012, she was hired full time as a web producer. She has completed internships at Washingtonian Magazine and at the public affairs office of Nellis Air Force Base in Las Vegas.
Data
The tech companies are joining forces to allow users to download and transfer data more easily.
Data
Watson will keep using AI to spot patterns in patient DNA.
Emerging Tech
A settlement between Defense Distributed and the State Department has been reached.
Data
Your TV knows just how many cooking shows you watch.
Cybersecurity
Site isolation helps keep most of your data out of reach from hackers looking to exploit the Spectre vulnerability.
CIO Briefing
"No, I will not be available for that 7 a.m. meeting."
Cybersecurity
Do you really know who has access to your Gmail account?
Cybersecurity
USB Restricted Mode could still let law enforcement into your phone.
Emerging Tech
These lasers are the equivalent of a pair of walkie-talkies.
Cybersecurity
A new way to determine if it's actually you trying to access your phone.
Data
Some tech companies got special access.
Data
The company's idea is to be able to remotely record from your device.
Cybersecurity
Worried you've been breached? There's now an easy way to check.
Data
The decision is a victory for privacy advocates.