Senator: Using USAJobs.gov is Like 'Typing information Into the Black Hole'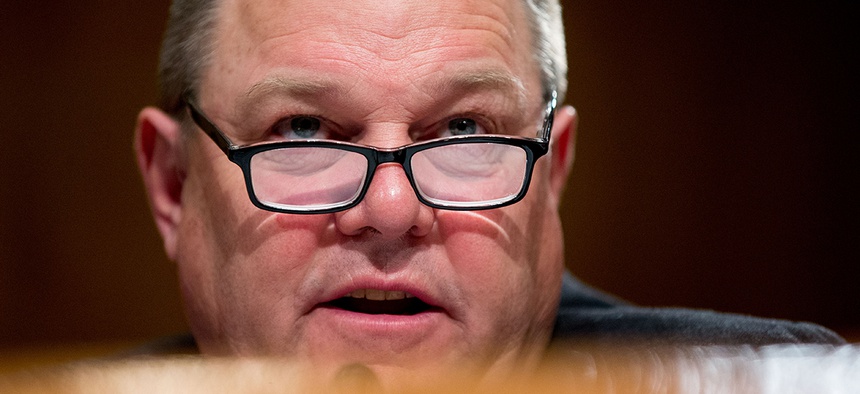 Agencies should start using social media platforms such as LinkedIn to post job openings, said one witness at a Senate roundtable.
The private sector is "kicking our butt," on hiring talented young job-seekers, Sen. Jon Tester, D-Mon., said Tuesday -- and that's because of the slow hiring process on USAjobs.gov. 
At a discussion hosted by the Senate Homeland Security and Governmental Affairs, lawmakers chimed in with their own ideas about how to improve the site -- including that agencies should be able to tap applicants who didn't get their first choice job, but might be interested in similar positions elsewhere, according to Sen. James Lankford, R-Okla. 
Today, using the site is like "typing your information into the black hole," Lankford said. Many applicants report they never hear back from hiring managers, and that the process takes months. With about 11 million account holders, USAJobs.gov is currently run by the Office of Personnel Management, after previously being contracted to Monster.com.
Here are a few other suggestions emerging from that discussion:
Stop asking applicants to rate themselves. The hiring process considers an applicant's self-assessment of their skills, meaning applications could be weeded out based on low scores, Lankford said. Many users "don't like rating themselves as 'expert,'" he said. A candidate who "rates himself down … doesn't get the job." It's also one of the reasons the hiring process takes so long, according to witness Linda Rix, president and co-chief executive officer of Avue Technologies Corporation, which helps federal agencies process applications. Often, a human resources professional examines "what the individual scored themselves and attempts to validate the scoring to the resume," she said.
Let hiring managers onto LinkedIn and other social media platforms. USAJobs.gov is not "where millennials go," Rix said. "Today, it's also social media; it's all LinkedIn and job boards."
Search for keywords in applicants' profiles and recruit them, instead of waiting for them to apply to particular jobs. If a forklift operator applies for a job across the country, "they should get pinged by multiple under locations" to say "you also meet the qualifications of ten other [positions] in the country," Lankford said. While it doesn't yet have that functionality, OPM is piloting a "mining" function, said OPM's Chief Human Capital Officer Mark Reinhold. If a candidate opts in, a hiring manager can search for "all the people who have 'forklift operation' in their resume" he said. 
Stay in touch with applicants in real-time. An applicant should be able to receive an assessment of their progress on their phones; they should also receive notices asking them if they want to keep their applications active even if others were hired, Rix said. 
Remove federal jargon. "If I'm not in the federal workforce and I'm a millennial, and I'm looking at this and it says my 'Series' and 'Grade,' ... I have no idea what that means," Lankford said, adding there aren't clickable definitions for these technical hiring terms. Reinhold noted the descriptions are often posted by the federal agencies themselves -- not OPM -- but that his outreach team is "trying to emphasize the importance of having clarify in job announcements and in USAjobs," he said.