Australia Ramps Up Digital Services With Own 18F-Inspired Office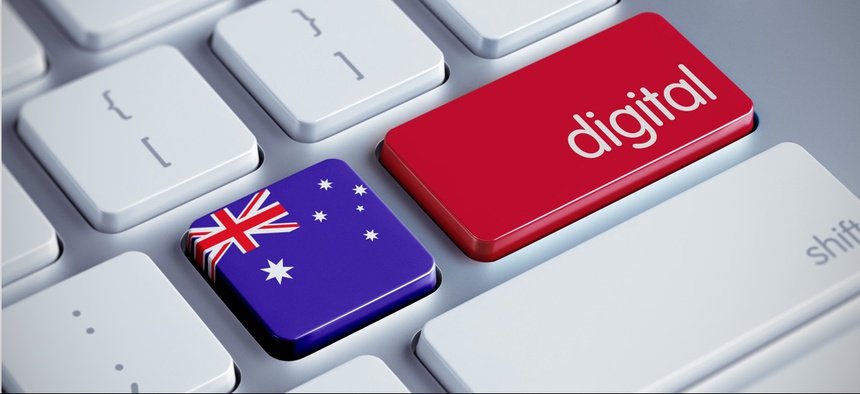 The Digital Transformation Office is expected to function in the manner of a startup and launch coordinated, user-centered digital services for the entire government.
On Wednesday, the Digital Transformation Office will start making public services accessible and comprehensive by making them digital from start to finish as the newly christened office for the Australian government.
If the effort sounds familiar, it should. More than a year ago, the U.S. launched its own federal digital fix-it team, 18F, with a similar objective. Digital Transformation Office acting CEO David Hazlehurst said his agency has borrowed many practices from 18F.
"A lot of this stuff is new territory for everyone and we want to make sure we don't waste time, don't do dumb things," he said in an interview with Nextgov.
An increasing number of Australians want to engage with their government using quick and simple digital tools. Instead, they often find themselves faced with piles of paper forms and frequent office visits thanks to the government's bureaucratic systems.
The Australian government expects the Digital Transformation Office, or DTO, to function in the manner of a startup and launch coordinated, user-centered digital services for the entire government.
---
Hazlehurst said it's his job to attempt a similar feat as 18F and unleash the creativity he knows is in DTO and the rest of the Australian government employees.
"It's about giving [government staff] the license and the support and the coverage to be able to innovate," he said.
DTO plans to take a few pages out of 18F's hiring book, according to Hazlehurst. As it increases its staff from about 90 people to about 120 people, DTO expects to recruit individuals from both the public and private sector, according to Hazlehurst.
The office has already had some preliminary discussions with certain private sector companies in Australia to determine the best way to facilitate this.
"We're anticipating quite a vibrant and flexible approach to engagement of staff," Hazlehurst said.
When the transformation office works with an agency to create a specific tool, it plans to share it with other agencies, according to Hazlehurst.
"If you've done it once and you've created something -- the sleek user experience -- why would you recreate it again, when you could just use the same code, package up the APIs in a similar way, and then go from there?" Hazlehurst said.
18F is in no way the first of its kind. The U.S. government was inspired by a similar team launched in the U.K. a few years earlier, called Government Digital Service. Its purpose is to use agile methodologies to make government digital services simple and straightforward.
Australia's transformation office also plans to use agile methodologies when it develops new services or makes improvements to those already in use, according to Hazlehurst. It expects to quickly create prototypes and rapidly test and alter them as needed.
The practice aims to replace the Australian government's current habit of "developing something in-house, polishing it within an inch of its life before actually revealing it to the public and getting any feedback on it," Hazlehurst said.
---
Australian Prime Minister Tony Abbott launched the transformation office late January as a task force within the government's Department of Communications.
It took more than two months for the DTO team to create a website and Twitter account. And as of Nextgov's interview with Hazlehurst, DTO has yet to complete a single project.
"Many of the current sites are hard to use and difficult to access," said Martin North, founding principal and data scientist of Australian research and consulting firm Digital Finance Analytics, in an interview with Nextgov. "The question is whether DTO can tackle the cultural norms, which have created the current mess."
As an official government office, DTO will have a budget of about $95 million per year, according to its budget.
The office plans to expand out of its headquarters in the Australian capital Canberra and launch offices in Sydney and possibly Melbourne, Hazlehurst said.
Those Australian agencies with services used for at least 50,000 transactions per year are expected to create a digital transformation plan by September 2015.
By 2017, the majority of government services and transactions are expected to be digital.
DTO staff has started work on a few projects, Hazlehurst said. His team has developed an alpha version of a new guide, called the Digital Service Standard, which has 16 rules detailing best practices for developing new services and improving current ones. The first rule instructs agencies to understand user needs before embarking on a new project.
"We deliberately put the standard out there as an alpha, not as a sort of finely finished, beautiful  product that would last forever," Hazlehurst said.
DTO plans to supplement the rulebook  with a guide for designing new digital services. The transformation team update the guide based on the feedback it receives.
Over the last few months, the team has also started leading design work for MyGov, an authentication system allowing citizens to gain access to services through a single log-on. DTO's plan is to add such tools as voice authentication and a single, authenticated digital mailbox for all government information, according to Hazlehurst.
(Image via xtock/ Shutterstock.com)