Romney in his comfort zone in technology speech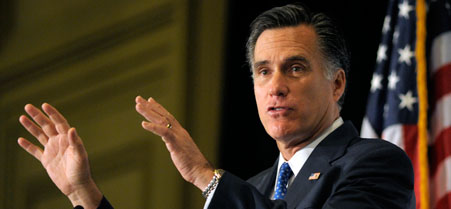 Cliff Owen/AP
RESTON, Va.--Appearing at home in front of an audience of technology executives and workers, Mitt Romney on Friday extolled the virtues of innovation, limited regulation, and low taxes to spur the U.S. economy.
"You have to have regulators in government who see their job as encouraging innovation in the private sector, as opposed to killing all potential risk," he told about 900 people at the Northern Virginia Technology Council. The crowd, often polite and quiet, interrupted the speech to clap at that line. They also applauded his calls to "staple a green card" to the Ph.D.'s that foreign students earn in the United States, or even abroad at top universities.
Romney's speech sketched the broad outline of the business climate he sees as necessary for the U.S. to prosper, including the importance of allowing people the freedom to take risks, with few proposals specific to the technology industry.
While discouraging government innovation in specific ventures like Solyndra, the green-energy company that went bankrupt after a $500 million government investment, he did tell the audience that more general investments in science and research are key.
"Government investment in basic science and research, which can be shared with all, that encourages innovation," Romney said. "So when the government invests in space, that creates new enterprises in innovation," he continued, briefly drawing on a page of the playbook of rival Newt Gingrich, who has spent a great deal of time on the campaign trail discussing his proposals to revitalize the space industry.
"Government as a crony capitalist makes it very hard for innovation to occur," Romney said.
In a nod to his audience, the former Massachusetts governor recalled a failed attempt to recruit Microsoft CEO Steve Ballmer to Bain Consulting.
"I have not always been successful in my endeavor," he joked, noting that he told Ballmer at the time he could have been worth $1 million or $2 million if he had accepted the offer. Ballmer's net worth is roughly $14 billion, according to Forbes.