House, Senate postpone piracy bills under pressure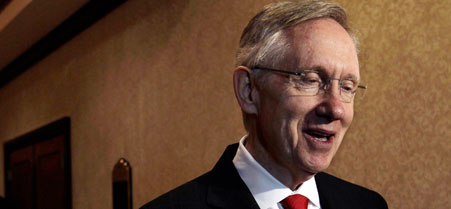 Julie Jacobson/AP
Capping a dramatic week of protests and legislative maneuvering, leaders in the Senate and the House announced on Friday that they are backing off efforts to pass a pair of controversial bills to crack down on foreign websites that use pirated content.
Senate Majority Leader Harry Reid , D-Nev., announced that he will postpone a cloture vote on the Senate's Protect IP Act, originally scheduled for Tuesday. And in the House, Judiciary Committee Chairman Lamar Smith , R-Texas, said he will postpone consideration of the House version until more agreement can be found.
Congress backed off the legislation after an unprecedented online protest on Wednesday by an estimated 115,000 websites and 13 million Internet users that catapulted the debate onto the national stage. At least eight former cosponsors of the Protect IP Act have defected, and support is waning for the House's Stop Online Piracy Act, which aims to give U.S. officials more tools for combating international piracy and copyright infringement.
"In light of recent events, I have decided to postpone Tuesday's vote on the Protect IP Act," Reid said in a statement.
Wikipedia, Craigslist, and other high-profile websites went so far as to black out their entire sites in protest against the legislation. Critics say the measures would limit free speech and harm the open nature of the Internet.
Now that dramatic show of force by Internet companies large and small seems to have paid off.
SOPA has yet to clear the House Judiciary Committee, despite ardent work by Smith. And the Senate bill, which had been on a relatively fast track after the Judiciary Committee unanimously approved it in May, looks equally doomed.
Just as the Web protests were roundly dismissed and disparaged by the bills' supporters, Reid's decision to back off sparked sharp reaction from Senate Judiciary Chairman Patrick Leahy , D-Vt., who sponsored the Protect IP Act.
"I understand and respect Majority Leader Reid's decision to seek consent to vitiate cloture on the motion to proceed to the Protect IP Act," Leahy said in a statement. "But the day will come when the senators who forced this move will look back and realize they made a knee-jerk reaction to a monumental problem."
Smith, meanwhile, said that it is "clear that we need to revisit the approach" on combating piracy.
The decision marks a failure for many in the traditionally strong entertainment lobby, which had pushed hard for the legislation.