The Federal Aviation Administration has approved Apple's iPad as an alternative to paper aeronautical charts for all phases of a flight.
Electronic flight materials are nothing new, according to FAA, but this is the first time iPad technology has been approved as a substitute for paper maps, including flight plans and airport diagrams, such as runways and taxiways.
FAA-approved iPad applications were developed by Englewood, Colo.-based Jeppesen, and are being used by Executive Jet Management, a wholly-owned subsidiary of NetJets, which provides worldwide charter and aircraft management services.
The iPad and the apps underwent testing on more than 250 flights with 55 pilots on 10 different aircraft models and had to be approved by FAA. An integrated dimming capability to support night or low-light flying was added during testing.
"This serves as a model for how the FAA can be engaged in working through a challenge and defining a solution that moves the industry forward safely and effectively," Jeppesen's Chief Executive Officer Mark Van Tine said in a prepared statement that praised the "exceptional collaboration" between the two companies and FAA.
Testing included rapid decompression and noninterference with other flight systems. In the event of a device failure, operators have backup systems, Jeff Buhl, Jeppesen senior manager for enterprise solutions, said in an e-mail.
Should one device fail, the co-pilot would have an iPad as well, FAA spokesman Les Dorr said. The devices are required to be able to draw power from the aircraft, so the iPad's power would not run out during a long flight.
When asked if iPads, which can be loaded with numerous games and applications, could be a potential distraction for pilots, Dorr reiterated FAA rules that pilots are not supposed to be using the devices for activities unrelated to flight. In October 2009, a Northwest Airlines jet overshot Minneapolis's airport by 150 miles and the pilots told investigators they were distracted by using airline software on their laptops.
Jeppesen said iPad is more cost-efficient and smaller than other electronic flight material bundles. An iPad costs $499, and the most basic application and service packages start at $76 a year, while comparable flight bags, including a laptop or other electronic device, could cost upwards of $20,000 per device, Buhl said.
The company expects other carriers to use the iPad rather than paper maps and other electronics. A select group of Alaska Airlines pilots are testing iPads, according to the company and FAA. The airline has not decided to use the technology yet and declined further comment, pending initial results.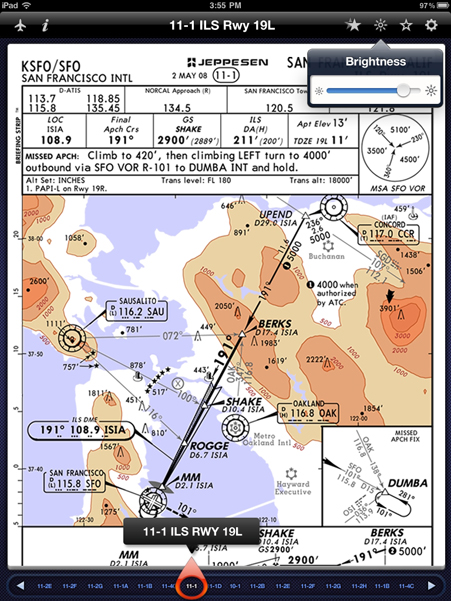 Jeppesen photo