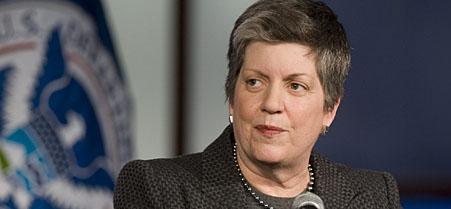 DHS Secretary Janet Napolitano said the department will automate immigration benefits processing. Shawn Thew/Landov
A Homeland Security Department program that was supposed to automate the processing of immigration papers still has not launched, after the agency responsible failed to complete a required pilot test and then continued to spend four years and more than $600 million to build the system.
Since 2007, DHS' U.S. Citizenship and Immigration Services, with contractor IBM Corp., has been planning to transition from a paper-based to a computerized system for managing applications for benefits, including visas. The nonpartisan Brookings Institution in January recommended digitizing visa processing to help defuse the heated battle over immigration by reducing errors and delays that prevent students and workers from contributing to the nation's economy.
USCIS maintains the project, known as Transformation, is moving forward.
Just last week, in her state of the department address, DHS Secretary Janet Napolitano said, "We will begin transitioning from a paper-based system to a new customer-focused, centralized electronic case management system for immigration benefits."
Documents obtained by Nextgov indicate the project has fallen behind schedule and increased significantly in cost, however.
When the government awarded a five-year contract to IBM for Transformation in 2008, spending was capped at $491.1 million. But as of Jan. 31, Homeland Security had spent $631.1 million on the project, including contract costs, government salaries, program management support contracts, operational and IT infrastructure upgrades, and general expenses, according to USCIS officials and data posted on the federal IT Dashboard, which tracks all major information technology investments. As of last summer, the total planned cost of the system was expected to be $1.7 billion. It has since jumped to $2.2 billion.
Transformation has been re-baselined at least three times, according to annual DHS budget submissions. While the contract was originally slated to end in 2013, as of last summer the schedule indicated the project would be complete in 2016. But more recently, the project had an end date of 2022.
This week, USCIS officials said in a statement to Nextgov that they "are not currently overspending the amount originally planned in the contract to date." They added, "The Transformation program budget has been reestimated periodically since the start of the project due to refining the evolving lifecycle cost estimate," specifically future maintenance and operational expenses.
The discrepancies between the program end dates and the total funding reported in the summer and winter "do not represent an increase in the program's development cost, a project overrun, or additional funding required," agency officials said.
The original schedule was delayed, they explained, because USCIS switched the order in which it would install system components. Originally, the plan was to start with immigration files. Now the installation will begin with nonimmigrant paperwork, such as visa applications. In addition, the agency needed more time for USCIS leaders to review the redesign. A contract protest by another vendor also prolonged the development process.
"All large-scale IT projects experience schedule-related pressures," the USCIS statement said. "USCIS has worked to diminish those types of risks and still deliver business value by deploying the core immigration benefit processing foundational system later this year."
Citizenship and Immigration Services began paying for the system without satisfying some of the conditions congressional appropriators had set forth in spending legislation, according to internal documents. In 2006, lawmakers required that the agency provide a strategic plan before obligating funds for Transformation. A July 2007 memo from the House Appropriations Homeland Security Subcommittee granted the agency permission to award the money, under the stipulation that it complete three pilot tests and report back on lessons learned. According to an internal memo, USCIS had not informed Congress of the status of the pilots as of February 2009 -- three months after the agency obligated funding to IBM. And one of the demonstration projects ultimately failed.
That project, known as the Secure Information Management Service, was intended to digitize international adoption records for easier review. The 2009 memo from the agency's chief information officer stated that the SIMS software did not meet requirements for ensuring the technology was accessible to people with disabilities, and then noted: "Briefing to Appropriation subcommittee is still pending."
A September 2009 request by a project manager to kill SIMS stated the service was hard to navigate and failed to comply with accessibility specifications. "A costly upgrade process appears to be the only true way to bring SIMS into compliance with these standards," the request stated. "There are usability issues surrounding the system; reporting is extremely difficult, screen displays are often awkward, the logic is difficult and not always intuitive, the views are overly complex. These criticisms -- very real and requiring a response -- contributed to the determination to decommission the system." Agency officials approved the cancellation in October 2009.
Meanwhile, a July 2009 Homeland Security inspector general's report recommended that USCIS "complete evaluations to document the results and lessons learned from the pilot and proof-of-concept programs." In March 2010, the Homeland Security assistant inspector general for IT told a House Judiciary subcommittee the pilots had been hindered by, among other things, "limited post-implementation performance reviews."
This week, USCIS officials conceded the SIMS pilot failed due to software limitations that rendered display screens inaccessible to the visually impaired.
But "the SIMS pilot was successful in providing the USCIS' Transformation program with a useful customer relationship management software proof of concept," they added. The agency published a post-implementation review of the demonstration project in October 2007 and an in-progress review in September 2008, according to USCIS officials.
Agency officials argued Transformation "met all pertinent authorizations and oversight requirements from within the component, DHS department and those mandated by Congress prior to awarding the [contract]." The DHS deputy secretary authorized USCIS to obligate funding to IBM, they added.
The conditions for obligating funds "were to be subsequently provided over time," the agency said in its statement. "USCIS has complied and is complying with those conditions, including having already conducted several briefings since the middle of 2007 which included annual budget briefings, and other discussions on the status of the transformation program and its pilots."
USCIS expects the system will be able to process certain nonimmigrant benefit forms by fall 2011. These include Temporary Protected Status (I-821) forms and Extension/Stay of Nonimmigrant Status (I-539) papers, as well as Employment Authorization (I-765) and Travel Documents (I-131). Additional nonimmigrant applications will move online in 2012.
Staff for Homeland Security Appropriations subcommittee ranking Democrat Rep. David Price, D-N.C., who signed the 2007 memo when he was chairman, said they were "unable" to comment.
The panel's new chairman, Rep. Robert Aderholt, R-Ala., said, "The House Appropriations Committee has a long history of withholding funds from programs that are mismanaged and that fail to produce results. I have every intention of continuing that tradition of robust oversight and am committed to making sure every dollar appropriated to DHS works hard to further our nation's security. USCIS and IBM both have new program executives and I look forward to monitoring the development and efficiency of Transformation moving forward. We will definitely hold them accountable and the committee will scrutinize their progress every step of the way and hold them to their milestones."
IBM officials declined to comment and referred questions about Transformation to USCIS.