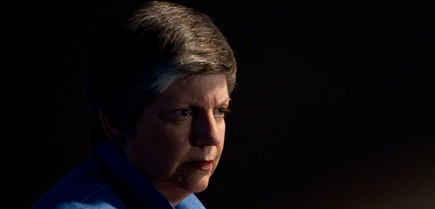 Secretary Janet Napolitano said DHS wanted the authorization system working before assessing a fee. Saul Loeb/Newscom
The Homeland Security Department will charge nonvisa holders who travel to the United States $14, partly to fund operation and maintenance of an electronic system for authorizing foreign visitors.
The fee, which will apply to Visa Waiver Program participants, includes $10 for travel promotion and $4 for use of the automated Electronic System for Travel Authorization, according to an interim final rule published in the Federal Register on Monday. ESTA collects biographical and other information to help assess whether citizens of countries in the waiver program pose a security risk.
DHS determined the ESTA portion of the fee by dividing the total estimated costs of the system for the next five years -- $324.5 million -- by 86 million, the predicted number of ESTA applicants during the same period. The estimated costs include administering, staffing and operating the system plus overhead. They also include procurement of technology to enhance information sharing between ESTA and other information systems within and outside DHS' Customs and Border Protection bureau. DHS added $12.5 million, which is equal to one fiscal quarter of operating costs, to the total in case travel volumes fall below expected levels.
Homeland Security created the electronic system in June 2008 to comply with a requirement of the 2007 9/11 Commission Act and made ESTA mandatory in January 2009. Though the law authorized the department to charge a fee for ESTA to recover costs, it did not specify an amount.
"DHS wanted to ensure the efficient operation and maintenance of the ESTA system before establishing an operational fee to recoup the costs of processing ESTA applications and vetting individual applicants," DHS Secretary Janet Napolitano said in the interim final rule.
DHS will accept comments on the rule until Oct. 8.