Senate nixes data transparency provision in financial overhaul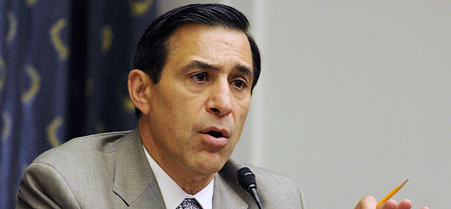 Rep. Darrell Issa, R-Calif., offered the proposal. Barbara L. Salisbury/Landov
Senators inexplicably killed a data transparency amendment proposed for the financial overhaul bill, prompting the head of the House Financial Services Committee to vow to quickly bring the item before the full House for a separate vote.
The amendment Rep. Darrell Issa, R-Calif., offered would have required regulators to use a standard electronic format, such as Extensible Business Reporting Language, for collecting and publishing business information from the financial industry. A conference report overhauling the U.S. financial regulatory system passed the House on Wednesday -- without the data transparency language.
"It's deeply disappointing that bipartisan transparency provisions were removed from the conference report in a manner that couldn't have been any less transparent," said Issa spokesman Frederick R. Hill. XBRL, the most widely used standard for financial data, enables any computer to compare figures and ensures proper accounting by using a common set of data fields.
At a meeting with House negotiators on Tuesday night, Issa said his amendment was "about as boring and technical as you could be," but "seemed very appropriate to put in here."
Issa initially proposed the measure on June 15, but withdrew it to work with Financial Services Chairman Barney Frank, D-Mass., on a more comprehensive package. Their staffs expanded the original proposal, which covered only a few types of transactions, to touch upon almost every financial data collection in the regulatory overhaul.
"It went to the Senate. And when I've asked the Senate, 'What happened? How did it just die?' I can't even find somebody who says, 'I didn't like it. There was something wrong with it,' " Issa said on Tuesday.
"We reached 26 pages, a 200-plus markup that was acceptable at least to House Republicans and Democrats and to the administration," he added. "I would like to inquire in the sense of transparency of this process, 'Aren't we entitled to at least understand what was wrong with it?' "
Frank responded he would commit to sending the proposal to the House floor under expedited voting procedures and try again. "That's as best we can do," he said.
The House passed a measure in December 2009 that calls for government agencies to use the same type of standard for sharing federal spending data. But several administration officials and senators have argued that changing practices to implement a uniform standard could be difficult and costly for some agencies.
The Securities and Exchange Commission and many public companies currently use XBRL for exchanging financial statements.
"The intent is to permit crowd-sourced oversight of the financial industry and also crowd-sourced oversight of the financial regulators," Hill said. Crowdsourcing is the concept of harnessing the wisdom of the masses to solve problems.
Watchdogs might be able to spot the next Ponzi scheme or publish more nuanced analyses of the Federal Reserve's audits, if they have streams of data that are easy to sort and search, another Republican aide said of the amendment's potential.
"While there appears to be some silent pockets of resistance in the Senate, Rep. Issa appreciates Chairman Frank's commitment to find a way to pass legislation creating data transparency as a nonpartisan step toward real accountability in government and the financial sector," Hill said.
Under the House amendment, regulators would have imposed data formats on all manner of financial outfits, including hedge funds and credit rating agencies. SEC would have been required to use a uniform format for all public company financial reporting, not just financial statements.
Issa's amendment would have required regulators who police derivatives -- complex financial contracts that many blame for the financial meltdown -- to make data on trades publicly available in searchable formats. The amendment also would have required previously undisclosed information about the Fed's activities to be reported online using the data standards.
The revised amendment addressed concerns that agencies raised with the lawmakers about burdening companies. The proposal would have granted regulators the power to exempt from the transparency provision specific firms or information that regulators believed could exert undue hardship.
Aides for the lead Senate negotiator, Connecticut Democrat Christopher J. Dodd, chairman of the Banking Committee, did not respond to several requests for comment. Frank's office did not have any additional comment later in the week.