DHS moves forward with financial management system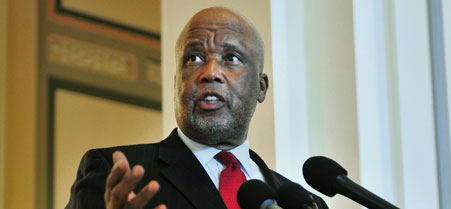 Rep. Bennie Thompson, D-Miss., cited "serious reservations" regarding TASC's projected cost. Kevin Dietsch/Landov
Members of a House committee questioned a massive financial management system modernization at the Homeland Security Department, although officials said on Tuesday the department plans to move forward with the project.
On Monday, members of the House Homeland Security Committee sent a letter to Rafael Borras, undersecretary for management at DHS, asking how the department planned to respond to a White House order issued June 28 to halt new task orders or procurements for financial systems that cost more than $20 million. In June 2007, DHS kicked off its Transformation and Systems Consolidation project to integrate its various financial management systems.
"The TASC procurement falls squarely within the purview of this OMB memorandum," said Reps. Bennie Thompson, D-Miss., and Christopher Carney, D-Pa., authors of the letter. The congressmen chair the House Homeland Security Committee and Subcommittee on Management, Investigations and Oversight, respectively.
The letter cited "serious reservations" regarding TASC's projected $450 million cost and pointed to reports from the DHS inspector general and the Government Accountability Office that highlight extensive delays. The lawmakers instructed Homeland Security to provide the committee an update on the TASC contract no later than July 30.
In an e-mail to Nextgov, department spokesman Larry Orluskie said the program will move forward as planned. "DHS is fully committed to following OMB guidance to ensure a successful financial system implementation [and] are working closely with OMB on our way forward to continue the planned TASC contract award," said Orluskie. He noted the request for proposals required a proven solution that already is in use in the federal government.
Ray Bjorklund, senior vice president and chief knowledge officer for the federal consulting firm FedSources Inc. in McLean, Va., said the oversight should give TASC a better chance of success. "While [program delays] cost everybody money -- both the government and its contractors -- programmatic fixes and potentially even OMB oversight will probably reduce the longer-term risks and make the project more successful," he said.
Bjorklund said Accenture, CGI Federal, CSC, Deloitte, IBM and Savantage Solutions will likely be among those competing for a portion of the award.
Ayesha Rahman, senior vice president at Savantage Solutions, applauded Thompson's letter. "TASC is an extremely expensive and, frankly, unnecessary program at this point," said Rahman, who confirmed the company responded to the TASC request for proposals but could not comment further on the procurement's status.
"We believe that the purpose of TASC needs more clarification," she added. "What specific problem is this program trying to accomplish? DHS is a remarkable organization with various modern financial systems, which still have useful lives of at least another 20 years."
Savantage filed a pre-award protest in response to the TASC request for proposals in March 2008, claiming the requirement for a proven solution already in use in the public sector created an unfair advantage for software vendors that already had similar contracts in the federal government. A federal circuit court of appeals rejected the argument in February 2010, stating , "We find nothing unreasonable in the means DHS has devised to improve its likelihood of success in obtaining the agencywide financial system that it has pursued, so far unsuccessfully, for more than six years."