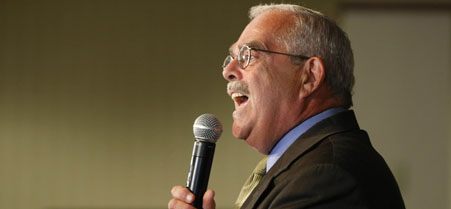 Rep. Gerry Connolly, D-Va. compared the transition to "the canary in the mine shaft." Gerald Herbert/AP
Complex technical requirements and overworked acquisition staffs are two of the main reasons agencies have been slow to switch their telecommunications services to the government's massive Networx contract, government and industry experts said on Thursday.
At a House Oversight and Government Reform Committee hearing, lawmakers criticized agencies' lack of progress in shifting to Networx, which is valued at $68 billion over 10 years, making it the largest federal telecommunications contract in history. It offers more advanced technology and services than its predecessor, FTS 2001, which expires in June 2011.
Networx offers lower prices for certain communications services, and the delays in moving to the contract cost the government $22.4 million every month. That could lead to a loss of savings of nearly $500 million by next year, committee members said.
"We are now in the ridiculous position of being three years in to a 10-year contract that we haven't even implemented," said committee chairman Rep. Edolphus Towns, D-N.Y. "What good are the cost savings if we don't take advantage of them?"
Though Networx is voluntary, it is the contract of choice for federal telecommunications services, and most agencies are participating, said Steve Kempf, acting commissioner of the General Services Administration's Federal Acquisition Service.
More than half of FTS 2001 services are disconnected, indicating agencies are transitioning to Networx and have made progress in the three years since the new contract was awarded, he said.
But measuring the percentage of disconnected services is a flawed metric, said Diana Gowen, senior vice president and general manager for Qwest Government Services, adding it creates an "illusion of progress."
Lawmakers and panelists agreed the complexity and depth of technical knowledge necessary to understand the Networx contracts, along with an understaffed and underprepared acquisition workforce, have left agencies without the resources to manage the transition.
According to Kempf, the broad range of services Networx provides has required agency acquisition offices to issue more statements of work than anticipated, creating more tasks for both procurement staffs and contractors. Officials in the telecommunications industry offered that same explanation in August 2009 for the slower-than-expected transition to Networx.
"It's the canary in the mine shaft," said Rep. Gerry Connolly, D-Va. "Do we have the resident expertise moving forward and if not, how do we build it so we're not so vulnerable?"
Panelists disagreed over whether government should adopt a like-for-like transition strategy, which would allow contractors to match telecommunications programs already in place in agencies with similar services and speed the process. After completing the transition, agencies could add elements such as improved security or more advanced technology.
Gowen said agencies were asked to be forward-thinking three years ago, but enough time has elapsed that a like-to-like transition is more reasonable now.
"If we're shortsighted enough to only look at speed and like for like, we will be too reliant on people with old skill sets and not on new technologies," said Don Herring, head of AT&T Government Solutions.
GSA expects the transition to have progressed enough by next year that agencies will have little work left to complete. But bridge contracts could be required to cover the gap between the expiration of the FTS 2001 contract in June 2011 until new Networx contracts can be signed, because agencies "can't afford to have the lines go dead," Kempf said.
Industry representatives weren't optimistic about government's ability to meet the deadline. The amount of work remaining is "staggering," said Susan Zeleniak, president of Verizon Federal Group. "What is expected to be done between now and June 2011 might be impossible."