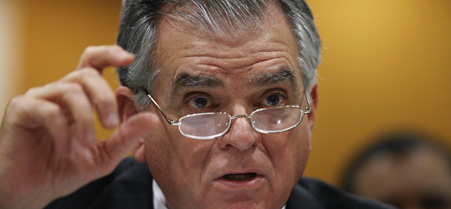 Transportation Secretary Ray LaHood praised the program for promoting "more effective citizen participation." Manuel Balce Ceneta/AP
The Transportation Department has allowed Cornell Law School to launch a Web site that will experiment with social networking to collect comments on a proposal to ban texting by interstate commercial truck and bus drivers.
The public-private initiative will study strategies for engaging people who have never participated in the rule-making process. The government's e-rule-making Web site, Regulations.gov , relies on static electronic forms to solicit input from citizens on proposals that are announced in the Federal Register , a log of federal rulings and actions unfamiliar to many outside the Beltway. With social networking services, Cornell's Web-based rule-making research group plans to alert people who might have an interest in a proposed rule, but probably have not heard about it via the Federal Register .
Messages will direct individuals to the Regulation Room Web site, which launched Wednesday, where they can learn more about the proposed rule and participate in shaping the final version of it. Cornell law students on Thursday began notifying interest groups, such as bicycling organizations and small business associations, which represent many motor vehicle operators, through the online community FaceBook and text-messaging service Twitter .
"This is not something that as far as we can tell the agency would normally do," said Cynthia Farina, a law professor and a principal researcher with the Cornell e-Rule-Making Initiative (CeRI). "It's not part of their normal press release process."
For each rule, the Regulation Room provides summaries of important issues and links to primary and secondary sources of supporting information. The site asks visitors to target their comments to particular issues, or specific sections of the rule. Law students and senior researchers moderate the blog. Comments will post as soon as they hit the site's server, but the moderators can later remove or modify inappropriate content. Midway through the comment period -- which is 30 days in this case -- researchers and users will synthesize all perspectives into a summary response for the Transportation Department. This means a user's comments will not necessarily be submitted for public record, as they would through Regulations.gov.
The blog format addresses CeRI researchers' primary technical challenge: organizing and labeling the site's content. "Rule-making is really unlike a lot of other contexts," for participating in government, "in that the policy proposals are already highly developed, legally complex, [and] just long [and] very inter-related," Farina said. Transparency advocates have long called for the government to publish rules in plain English, prompting Regulations.gov recently to enhance navigation and seek online feedback.
The researchers also are using Regulation Room to test natural language processing, which is a field of artificial intelligence that deals with the interaction between computers and people through human language rather than computer code. Computer technologies will "read" user comments to detect their sentiment, such as whether the participant supports or disagrees with the rule. Then, employing tools similar to what retail sites use to personalize product recommendations, the technology will set up discussions between users with different opinions.
"There is a part of the site you can't see that we are extremely excited about and that is a moderator interface," Farina said.
Regulation Room stresses it is not a government site and CeRI owns all comments and e-mail addresses collected for authentication purposes. Cornell University is responsible for maintaining the site, presenting educational materials and moderating public interaction. Transportation helps in the selection of upcoming regulatory proposals and explaining their substance to the researchers.
"This rule-making keeps our commitment to making our roads safer by reducing the threat of distracted driving," Transportation Secretary Ray LaHood said in a statement. "And our partnership with Cornell on the e-rule-making initiative is an important step toward keeping President Obama's promise of opening government to more effective citizen participation."
Matt Madia, regulatory policy analyst at government accountability group OMB Watch, said CeRI's approach could be beneficial for any agency. "What strikes me about it is how collaborative a process it's trying to create," he said. "It could work for rules that are more significant, that are more likely to be a big deal," but may be too time-consuming for minor rules.
Madia added Regulations.gov and the Regulation Room can complement each other. "One of the things we would like to see is a centralized portal but flexibility for agencies or outside groups to do their own thing," he said. "It's compatible. It's not a one-or-the-other type thing."