Financial regulatory agencies seek to upgrade IT systems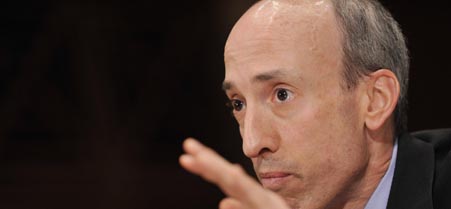 Chairman Gary Gensler testified that the CFTC is looking to start implementing technology upgrades. Zhang Jun/Landov
Faced with the possibility of greater regulatory responsibilities, the Commodities Future Trading Commission and the Securities and Exchange Commission must upgrade their information technology systems, CFTC and SEC heads told Senate appropriators on Wednesday afternoon.
"While market participants have the technology to automate their trading, we do not yet have the resources to employ modern technology to automate our surveillance," CFTC Chairman Gary Gensler testified before the Senate Appropriations Subcommittee on Financial Services and General Government. "Significant changes in the markets demand new systems capable of efficiently receiving and managing massive amounts of raw data and converting it to useful information for analysis by skilled market experts, economists and technologists."
President Obama's fiscal 2011 budget recommends spending $18 million on IT to cover current and potential new authorities for CFTC, an agency that has long been underfunded, according to financial executives and agency officials. CFTC requested $23.3 million for IT in fiscal 2010 but was only allocated $9.3 million. Senators on Wednesday held a hearing to learn more about the budget requests for both commissions.
The full Senate is in the midst of a debate over legislation to reform financial regulation, partly by empowering the government to police over-the-counter, or privately exchanged, derivatives, which are complex financial contracts between two parties that hedge against what could happen in the future to other assets. Some proposals would move all derivatives onto trading systems that CFTC and SEC would be able to examine with the appropriate technology.
According to its 2011 proposal, new program requirements mean CFTC needs to expand its entire infrastructure, including communications circuits, overall circuit capacity, cabling and connections, switches, routers, servers, data storage and backup. Gensler noted on Wednesday that, at present, surveillance systems process more than 1 billion transactions annually.
During the past year CFTC's systems have had trouble accepting data from market participants, according to financial industry officials who did not attend the hearing and spoke on condition of anonymity.
Also separate from the hearing, CFTC officials said the commission expects to buy new hardware and software with the $18 million for collecting a growing amount of data from the financial industry. The hardware would provide greater storage capacity and processing power so CFTC can keep up with the rapidly evolving marketplace, they said. The new software would assist in integrating existing systems to perform more thorough analyses. A key software challenge will be ensuring the tools can detect and flag information that requires further scrutiny, officials noted.
Obama has requested $216 million total for CFTC in fiscal 2011. He also has proposed an additional $45 million be available through fiscal 2012 for new hires, including 15 full-time IT employees, should Congress pass regulatory reform. In addition, the president has asked for $1.3 billion total for SEC, part of which would allow the commission to continue expanding its investments in surveillance, risk analysis and other technology. Of that total, $24 million is contingent on passage of financial reform.
"A key priority for me as chairman is to ensure that our staff has the tools they need to conduct oversight of vast financial market," Mary Schapiro, chairwoman of SEC, told appropriators. SEC's budget proposes investing $12 million in IT, including the completion of a central system for analyzing tips, whistleblower complaints and referrals. Last year, the agency asked for $5 million.
"Having an effective process to identify the most important tips can give the agency an early jump on frauds and other violations of securities laws, help guide compliance exams and provide important information across the agency to aid staff working to protect investors and maintain market integrity," she said. "The absence of such a system directly contributed to past failures by the agency."
Previously, SEC housed tips and complaints in multiple databases in separate regional offices. The commission has finished consolidating the repositories and is working to provide more advanced search capabilities. A future phase, supported by fiscal 2011 funds, would add risk analysis tools, allowing SEC to quickly spot high-value tips and search for trends and patterns across the data.
SEC's other ongoing IT projects include the enhancement of its case management system and new tools for monitoring an ever-increasing amount of electronic evidence. After tackling those tasks, SEC plans to build an IT forensics lab and upgrade its knowledge management system.
Some industry observers predict the requested funding will bolster IT resources for CFTC and SEC in the short term, but more money will be needed after regulation is in place. History has shown that once financial products become regulated, additional players typically enter the markets. Should all derivatives come under the government's purview, the volume of data that CFTC and SEC must process would further strain systems, they said.
An SEC spokesman said the budget request seeks sufficient IT resources for current and future needs.