Scholars look to increase research on open government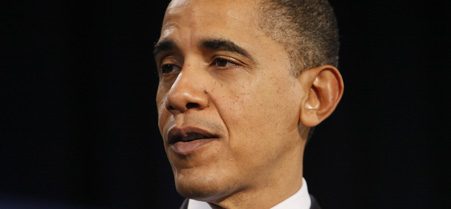 President Obama's initiative to disclose data has spawned research into its effectiveness. J. Scott Applewhite/AP
The practice of disclosing government data in a way that is meaningful to the public and holds the government accountable could become a growing area of scholarly interest, partly because the Obama administration's interest in the subject has made research funding easier to obtain, some academics said.
"It makes a huge difference when powerful people say they want to pursue something," said J.H. Snider, president of iSolon , a nonprofit institute focused on using information technology to bring about democratic reform. In an executive memo issued on his first day in office, President Obama committed himself to creating a government that uses technology to improve public disclosure, partnerships with the private sector and citizen participation.
"Once you have a critical mass of people interested in something, then it attracts money," Snider said. "You get all sorts of money flowing from foundations."
The body of work on the subject of using data to drive transparency is limited, however, making it difficult to write books, teach courses or conduct comparative research.
Snider said a decade ago he applied for grant money to study e-Congress and was rejected. But the International Journal of Public Participation published an essay in January that Snider wrote titled "Deterring Fake Public Participation." The paper cites Obama's open government directive -- steps the White House outlined in December 2009 for agencies to carry out the president's commitment -- as a policy to be scrutinized for loopholes that could encourage disingenuous public engagement.
The essay recommends that administrations wishing to pursue technology-based open government initiatives should increase access to public participation metadata, which is information that details the processes through which public input has been sought and applied in decision-making.
For example, metadata associated with a webcast of a public meeting would include all official steps taken to publicize the meeting, such as how much money was spent; e-mails to the press; notice given to lobbyists and public employees; the nature of the recordings of the participation, including where and how long they will be stored, whether they subsequently can be edited, and, if so, whether the public will be informed of the changes; and the method for selecting public speakers, such as a digital copy of a sign-up sheet, the date it was posted, where it was posted, and the relationship between the order of names on the sign-up sheet and the speaking order during the meeting.
Snider has observed that at government transparency conferences, which are becoming more popular in Washington, political science professors typically do not speak. He and other academics said while scholarly interest is increasing, universities have yet to establish research methods on the subject or a clear canon of text to support curriculums. In addition, cross-disciplinary research is hard to coordinate and fund.
"You might need legal experts to be able to explain how information fits into the statutory or regulatory framework; you would need cognitive specialists to talk about attentional issues, human-computer interaction specialists . . . and social scientists of some sort to do follow up," said Cynthia Farina, a law professor at Cornell University and a principal researcher in the Cornell e-Rulemaking Initiative.
Professors are not teaching the subject in political science or law schools, and while grants and foundations offer funding for piecemeal projects, there is not enough money for that level of work, she noted.
Farina's research includes collaborating with the Transportation Department to improve e-rule-making. A Web site dubbed Regulation Room, expected to launch within the next month, will experiment with different methods of engaging citizens who have not participated in the regulatory process to identify the best approach for outreach. Researchers will be "looking at how information about the rule spreads virally to groups that have an interest in it," she said.
Archon Fung, a professor at Harvard University's John F. Kennedy School of Government, is skeptical the area will draw much academic interest soon. Electronic-based activities, such as publishing meeting metadata, would have to be in practice for years before academics write about them, he said.
There is more interest in using disclosed data for analyzing campaign finance to see who is giving money and whether that makes a difference, said Fung, who co-authored the book Full Disclosure: The Perils and Promise of Transparency (Cambridge University Press, 2007), which he discussed with Nextgov in September 2009. But "the accountability questions are somewhat more difficult to research," he noted.
Snider is more optimistic. "The chances are it will be [in] two or three years that we'll actually see what's being done" in work that is going through the review process now, he said.
O'Reilly Media Inc., a publisher of technology books, periodicals and Web sites, last month released Open Government: Transparency, Collaboration and Participation in Practice , which includes several chapters written by academics. David Robinson, who launched Princeton University's Center for Information Technology Policy, co-authored a section on the rise of citizen-made Web applications derived from bulk government data. Portions of the chapter originally appeared in the Yale Journal of Law and Technology . (Nextgov is a media partner with O'Reilly Media for the Gov 2.0 Expo, which will be held in Washington in May.)
Robinson said a book such as O'Reilly Media's probably would have been written even if Obama were not in office, but the president's leadership is "icing on the cake" for the visibility of academic work on technology-fueled transparency.
"We began drafting the [Yale paper] in the spring or summer of 2008, before we even knew who the Democratic nominee was or the eventual winner," he said. Open government "would absolutely still be a subject of academic inquiry under any administration," equally so if the president was uninterested in using technology to increase transparency.
For his next essay, Robinson said he is contemplating what the boundaries of transparency might be. "People need, in some settings, to be able to deliberate outside of public view," he said, adding there are instances "when it can be important to give people the space and time to let people brainstorm without having their every idea published."