sponsor content What's this?
How to Build a Stronger Federal Cybersecurity Workforce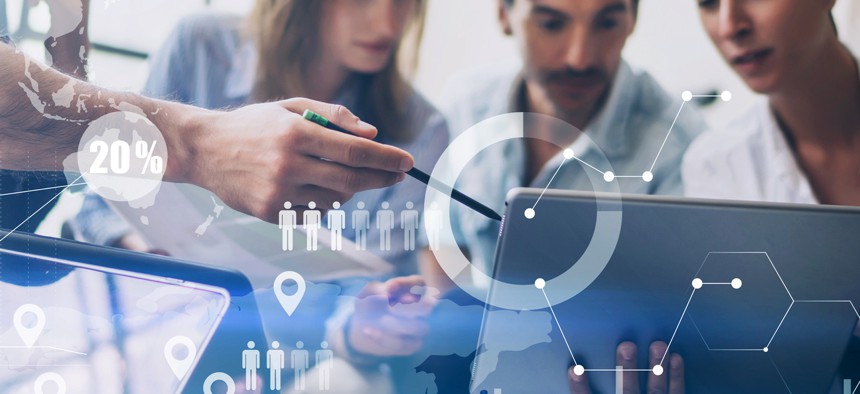 Presented by Peraton

If Gregory Garrett, an industry expert with over two decades of experience in the field, were to pick one word to describe today's government cybersecurity workforce it is 'overwhelmed'.
Between managing the ever-evolving cybersecurity landscape and combating increasingly sophisticated threat actors, "the federal cybersecurity workforce is overwhelmed by the growing volume of data to secure, the level of sophistication of modern cyberthreats they face, and the government's difficulty keeping pace with a changing technology base."
As a result, federal cyber teams have struggled to hire enough qualified staff to meet demand: Of the over 600,000 unfilled cybersecurity positions in the U.S. last year, more than 100,000 were in the public sector. With limited staff, IT teams find themselves overburdened with everyday tasks and unable to respond to threats as quickly or efficiently as necessary, leaving their agencies vulnerable.
Garrett, who currently serves as vice president of cybersecurity at Peraton, a leading technology company that specializes in providing cyber solutions to government, believes that in order to strengthen the federal cybersecurity workforce agencies must take a holistic approach to enhancing their IT environments.
He explains: "You have to reexamine every aspect of your internal structure to better support your people, evaluate your processes and technology, and make sure you're working with the right partners."
Invest in People
To find and recruit the best people, Garrett recommends that agencies invest in the proper resources to increase salaries, improve benefits, and allow for remote or flexible work options.
Additionally, in a dynamic landscape where tactics, techniques and procedures are changing daily, agencies should provide training and professional development programs so teams can stay ahead of emerging trends.
"Right now, less than 5% of the federal IT workforce has been educated, trained, and certified in cybersecurity," says Garrett. "Federal agencies need to create an environment of continuous education and training to foster growth and success."
Another way for employees to proactively strengthen their skillsets and prepare for the future is by collaborating with other agencies. Garrett notes that while this may be a more innovative approach, it is one that will help unify the government in its threat response strategy.
"At the end of the day, cybersecurity is very much a human-centric field. The technology supports the mission, of course, but ultimately it comes down to human decision-making," says Garrett. "What's fundamentally needed is increased global collaboration, sharing information about the nature of the threats and the methodologies being utilized to fight them."
Modernize Technology
According to Garrett, most federal agencies are constantly faced with an overwhelming volume of data and cyber alerts.
"They're struggling with how to respond to, prioritize and remediate those threats as rapidly as possible," he explains.
Zero trust architectures, artificial intelligence and machine learning are becoming critical solutions in relieving the burden on IT professionals. According to Garrett, those tools can significantly reduce the overload of data that security analysts manage, taking on the brunt of tedious tasks so cybersecurity teams can focus on more pressing matters.
"Adopting more security orchestration and automated response, or SOAR, capabilities will simplify and streamline processes," Garrett explains. "With the information overload reduced, the human side of cybersecurity — like enhancing data analysis and using predictive analytics to improve real-time decision-making — can thrive."
Moreover, he notes that the use of automated incident response playbooks increases an agency's speed to response to cyber-attacks as well as enhance cyber resilience.
Collaborate with the Right Partners
"IT departments are often so overwhelmed, they don't know which technology and tools are best, or how to get them properly integrated and optimized to ensure the best performance to reduce their attack surface," Garrett says.
This is where a mission-capability integrator like Peraton can help. Garrett and Peraton's thousands of expert cyber-focused scientists, engineers and analysts work to ensure a seamless user experience for federal cybersecurity professionals by implementing automated tools that both simplify their architecture and improve the overall resilience of their systems.
Peraton Labs, the company's applied research arm, has led advanced cybersecurity government-funded research and development programs for dozens of government partners — including U.S. Army, U.S. Air Force, Defense Advanced Research Projects Agency, Intelligence Advanced Research Projects Activity, and a host of others — giving them unique insight and expertise to guide agencies on their cybersecurity missions.
"Beyond our cyber R&D projects, Peraton has successfully tested, integrated, and led the implementation of numerous new cybersecurity tools to mitigate cyberattacks and enhance the detection, response, and remediation of cyber threats," says Garrett.
Notable tools developed by Peraton that are helping government agencies become more cyber secure include:
Ultimately, as more agencies take the steps to overcome their cybersecurity challenges, improve working environments, and keep employees engaged, Garrett's hope is that there will be space for federal IT professionals to work with both each other and industry partners to craft solutions that bolster national cybersecurity.
"Each year, the federal government spends more on cybersecurity, which helps get more people involved and trained and increases salaries. That is a great step forward," he says. "Investments like this will improve coordination amongst the government agencies and hasten partnerships with companies like Peraton to help the government through the future's obstacles."
Learn more about how Peraton can help strengthen your agency's cybersecurity team