sponsor content What's this?
Human-centric Digital Transformation: The Key to Effective Government Modernization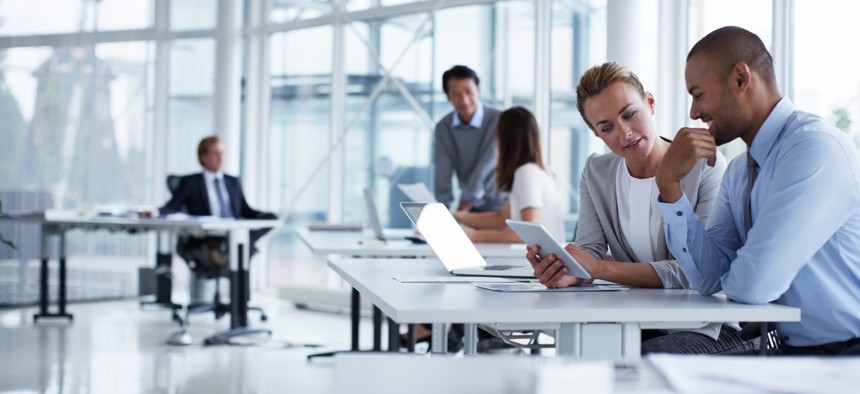 Presented by Peraton

The global pandemic and supply chain disruptions have invigorated government agencies to look inward and reevaluate how current systems, processes and structures provide mission services. As a result, many agencies are undertaking comprehensive digital transformation efforts to modernize outdated processes and technologies that hinder them from achieving their taxpayer-funded missions.
However, embarking on a successful digital transformation requires more than just updating technology, it also requires the newly streamlined processes and — most importantly — the right people to implement them. Building and training a team with the skills and capacity necessary to fuel a culture of transformation within the organization is imperative in driving change.
"Given the new reality in this digital age, people and culture are critical to digital transformation," said Rafael Diaz, who leads the digital transformation (DTX) campaign at national security company Peraton, which works with federal, state, and local government agencies to optimize their digital experience.
"Digital transformation is not easy, but it's simple," Diaz said. "There's some very simple principles and guidelines, and organizations need to understand it's not solely about the technology, it's about the people, how they're using the technology, and how they can complete the mission more effectively."
Here, Diaz delves into the role of people and culture in DTX, the effects on business growth, how agencies can more effectively equip their teams to spearhead transformation efforts — and how Peraton can help guide them into the future.
Finding a Starting Point
As agencies rushed to meet the unforeseen circumstances of the pandemic and serve constituents in the safest way possible, they often bolted new capabilities onto their existing systems for a quick fix. While these implementations may have been helpful in the short term, unfortunately, they often didn't take the needs of the entire enterprise into account.
"Agencies needed to make many changes very quickly from a purely technical solution standpoint. Their mindset was 'here's a problem that technology can solve, let's get it into place," Diaz said. "The users, the stakeholders, the decision makers, the organization, the business processes were all secondary."
Now, as the government workforce settles into the new normal, agencies are taking a step back to evaluate which technology can help reach their long-term goals — that's where digital transformation comes in. While DTX is often oversimplified as the adoption of new technology, Diaz explained that it can transform how an organization works by leveraging technology to improve mission execution.
Change starts at the top, Diaz said. Agency leadership must take the initiative, evaluate their own architecture and mission, develop a strategy, communicate a vision, and ensure the transformation is specific to their agency's individual needs.
"Leadership must assess the vision to ensure that they're starting in the right place, so they can build integrated capabilities into the organization and not just layer on new IT systems," he said. "This ensures the technology aligns closely with the agency and how it fulfills its mission."
Digital Transformation Improves Culture
After establishing a top-level strategy, it's crucial for leadership to articulate its vision to employees to help them understand the reasons and methodology for the shift.
"Leadership is such a critical element to guide people through the transformation," said Diaz. "Leaders need to understand how employees and other stakeholders are being impacted by the new technology, how they can use it more effectively and how it will empower them to take action and make decisions."
As the users and beneficiaries of the new technology, people are the true bedrock of DTX. According to Diaz, it is especially critical for employees to understand not just how DTX benefits the organization, but the role each individual plays in the process. If day-to-day users of these systems don't see value in the shift, it will not only hinder the transformation but create a negative culture that's adverse to change.
"You're changing the technology people are accustomed to. Now they must learn something new, change their processes, and the nature of how they work," he said. Comprehensive training is a requirement, but it's also an opportunity to change how people work together, and how the organization is structured.
"Of course, there's the training with actual technical components like cloud, artificial intelligence or cyber," said Diaz. "But there's also integration methods that should be explored, like DevSecOps, DataOps, and CyberOps that break down silos and allow organizations to work in collaborative ways."
Collaborative mindsets encourage efficiency, improve company culture, and foster a sense of shared responsibility among staff. This can unlock opportunities for innovation. When new teams are formed, they are more likely to arrive at innovative ideas about how to solve long-standing problems and push the organization to its fullest potential.
"During digital transformation, people bring critical insights into how the teams, processes, or even systems are really working," said Diaz. "They can help to identify opportunities more effectively within the digital transformation program."
"It's not easy, but it's simple"
At Peraton, Diaz and his colleagues have taken DTX a step further with Peraton's Digital Continuum of Business Transformation. In addition to providing agencies with clarity at every stage of the initial DTX process, the Digital Continuum — as its name suggests — encourages agencies to approach business transformation as a continuous process that leadership and teams can build upon.
A key part of Diaz's mission at Peraton is to help agencies leverage DTX to scale, ensuring the enterprise reaps the benefits of the new technology, allowing them to implement innovative solutions and seamlessly integrate updates or changes that arise in the future. This builds agility and resilience.
"Technology is changing continuously and providing better capabilities and better opportunities," he said, noting that, as technology advances, agency leaders should pay attention to the employees who are genuinely invested in improving the culture through DTX.
"One thing we advocate for is that current leaders keep an eye out for new leaders to emerge when teams come together," said Diaz. "Leadership has to be aware and open to developing those folks, because they are the next generation of leaders within the organization."
Ultimately, Diaz noted, agencies already have some of the internal talent they need to execute a DTX strategy. By enhancing internal capabilities with training and working with partners like Peraton, agencies are ready to leverage those internal skills for success.
Learn more about how Peraton can help your agency strategize and enact powerful, effective digital transformation.