sponsor content What's this?
From Concept to Reality: Bringing 5G Cybersecurity to the Fore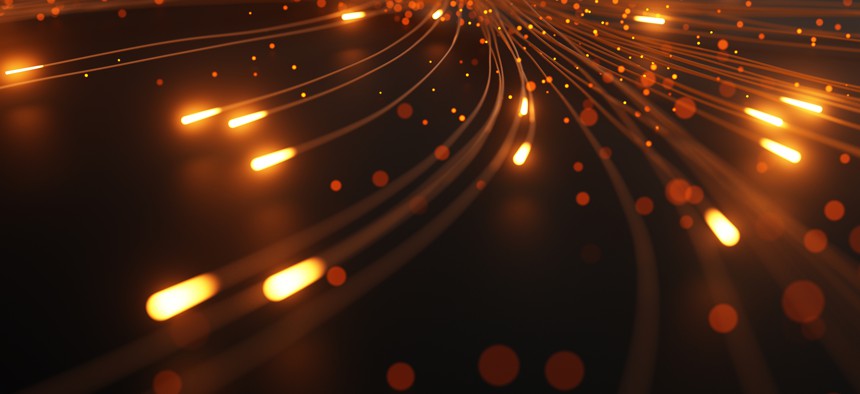 Presented by Verizon
The only way to deliver on the promise of 5G is to ensure cybersecurity evolves along with it. Here's how government agencies are prioritizing that security.
When the 4G LTE mobile wireless network was rolled out in 2010, no one could have foreseen the ways that enhanced connectivity would change our world. From ridesharing apps to social media, the ways our lives have evolved in the past decade have been greatly impacted by the capabilities an enhanced network provides.
Fast forward to today, and 5G is the newest technology standard set to revolutionize the way we live and work. Offering lower latency, greater speed, and higher bandwidth than its predecessor, the fifth generation of mobile wireless networks is set to change our lives — including ways that can help government meet its mission.
With advances like the Internet of Things, autonomous vehicles and enhanced training via augmented reality and virtual reality (AR/VR), 5G is expected to bring major enhancements to the government landscape, said Bryan Schromsky, Managing Partner of Federal Government Mobile and Connected Solutions for Verizon, speaking at NextGov's recent 5G Futures event.
"We see a lot of sprouts of grass and seedlings all over the country right now that every military installation wants to get into 5G one way or the other," said Schromsky, pointing to interest among military personnel in immersive training, tapping AR/VR for maintenance purposes, autonomous vehicles and ultimately improving experiences across the board with the network technology. That interest is appearing now in the form of research hubs, like the U.S. Marine Corps Miramar 5G testbed, a collaborative effort between private industry partners, like Verizon, and the DOD, which went live in January 2021. This interest will soon move from concept to reality, Schromsky said.
"Very soon, you're going to see the shift of going to more operational use ... so not just research and engineering, but how can I use 5G today for some common use cases on military installations?" he said.
However, as we move toward operational use, evolving cybersecurity measures to match use and protect data will be key to delivering on the promise of 5G. 
According to Schromsky, if you are using video surveillance on a military installation, are connecting a flight line, or have highly desirable information from a foreign adversary space (like military aircraft, personnel or hardware), network security is critical. "You can imagine if [these types of assets] are connected to a 5G network, cybersecurity is a key component,"  Schromsky said.
Encryption, Network Slicing and More
The good news, however, is that vendors like Verizon are working to inject cybersecurity into the fabric of the 5G network. This includes capabilities like network slicing, which segments parts of the 5G network for different users or use cases. Network slicing could be used for a variety of reasons, such as prioritizing critical functions. When paired with encryption, network slicing could enable the ability to encrypt traffic within a specific network slice to help build layers of security into the network from the get-go. This approach should prove particularly useful for more complex network technologies, like IoT or automation.
"As you get into more critical infrastructure, such as IoT — unlike a smartphone or a laptop — where they're using VPN and higher-level encryption, there will actually be encryption built into the actual network itself. The DOD or an agency can add to that, but it's just another layer of security wrapped around the infrastructure, which we put into critical infrastructure," Schromsky said.
Securing the 5G Supply Chain
Of course, no technology is secure unless each element is secure, which is why a trusted supply chain plays a crucial role in building up 5G infrastructure.
While the government is taking measures to address those security concerns, responsibility also falls to companies to use trusted suppliers.
Complicating matters is the supply constraints brought about by the coronavirus pandemic. While Verizon is looking at creative ways to solve supply chain challenges to meet demand, Schromsky said the company is keeping security in mind.
"You have to keep it in that security model. If you don't, yes, you're servicing your end-user, but at what risk?" he noted.
As agencies move toward 5G adoption, security should remain a top priority, but they can also rest assured that Verizon is looking at building out cybersecurity to meet changing needs so that agencies can focus less on security and more on the future of the possible.
"There's a lot of things to be excited about," said Schromsky.
Learn more about how Verizon is prioritizing 5G cybersecurity.