Samsung Wants Your Behavior to Unlock Your Phones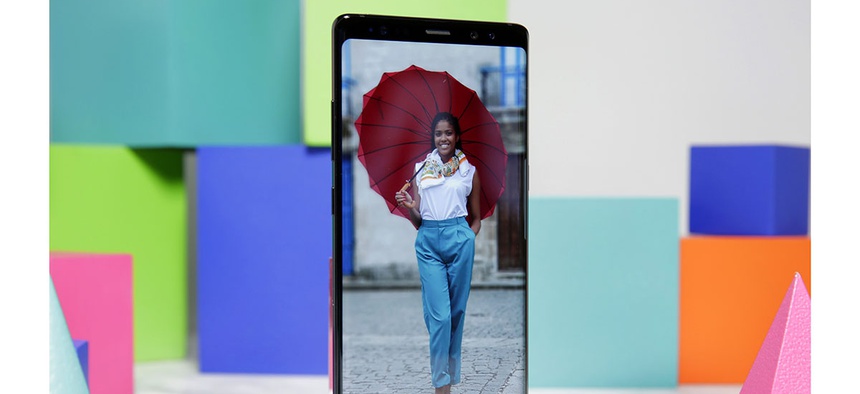 The company has significant market share among Defense Department customers but plans to pursue civilian agencies.
Samsung phones might soon be able to confirm your identity by analyzing your voice or your usage patterns, like which hand you use to swipe or type.
The Korean consumer technology giant last week unveiled its newest phone model, a 6.3-inch device with more memory and a higher resolution than previous versions. It has an iris scanner that lets users unlock the phone without touching it, as well as a fingerprint scanner similar to the iPhone. Bixby, Samsung's virtual assistant, is pre-loaded on the devices.
Samsung isn't known for its Washington presence even though it's used by the majority of the federal government's classified workforce, the company's vice president of federal told Nextgov. The company hosted an event promoting the new Galaxy Note 8 in Washington coinciding with its national unveiling, part of an effort to raise awareness about the company's federal offering.
» Get the best federal technology news and ideas delivered right to your inbox. Sign up here.
Future models might include new methods for verifying a user is really who they say they are, protecting the devices from intruders, Chris Balcik explained. Current models can already authenticate users by asking for a PIN, or scanning fingerprints, irises, or the user's face. Defense customers want to add "several other layers of authentication," potentially analyzing a user's voice and user behavior, including what a user does on the device.  
Those and other options for authentication could be available as soon as two years from now, Balcik said, though federal customers may be more likely than traditional consumers to use all those layers simultaneously.
Balcik is also pitching federal agencies on the device's potential to support virtual reality systems, like warfighter or pilot training programs. The Galaxy line's Gorilla Glass, designed to resist damage and scratches, might make the devices durable enough for use in the field, he added.
After Galaxy devices were approved in 2014 by the National Security Agency's "Commercial Solutions for Classified" program, which looked for private sector offerings that can be used in government, Samsung has made significant headway in the Defense market. The company now plans to market to civilian agencies including the Federal Aviation Administration, the Commerce Department, and the Veterans Affairs Department, Balcik said.