Most times, people wear glasses to not be blind. But the opposite is allegedly happening with Google Glass: The techno-specs can create a "partial peripheral vision obstruction," according to a new study in JAMA .
Google Glass has come a long way in the past four years. It's gone from looking like the glued-together contents of a RadioShack spare-parts bin to an almost-normal-seeming accessory with a mysterious camera-dongle on one side. (And to believe this patent image , future iterations might make that camera all but invisible.) The glasses have been sported at New York's Fashion Week , graced the faces of politicians and professional athletes , and even made an appearance at an Apple conference , of all places.
Given that this sort of wearable tech doesn't seem to be going away, researchers were interested it might affect one's situational awareness (which is especially important in the Bay Area, where people are going ham on Glass users). Here's more on why they wanted to study the eyewear:
Interest in wearable head-mounted display systems for general consumers is increasing, with multiple models in production. However, their effect on vision is largely unknown. Peripheral visual field is a main component of vision and essential for daily activities such as driving, pedestrian safety, and sports. Conventional spectacle frames can reduce visual field, sometimes causing absolute blind spots, and head­ mounted devices have even more pronounced frames, according to background information in the article.
So this spring, Tsontcho Ianchulev and others at the University of California, San Francisco, had three test participants with 20/20 vision wear Glass and tested their sight. The results: All three showed significant blind spots in the upper-right part of their vision, right where the frame's camera is located. The researchers concluded that the frame is causing these obstructed regions, and not the software that people might be playing around with.
The Glass-induced blind spots are shown here as darkened areas in lines one and three (two and four are control frames). Gray regions indicate reduced vision, black ones are no vision: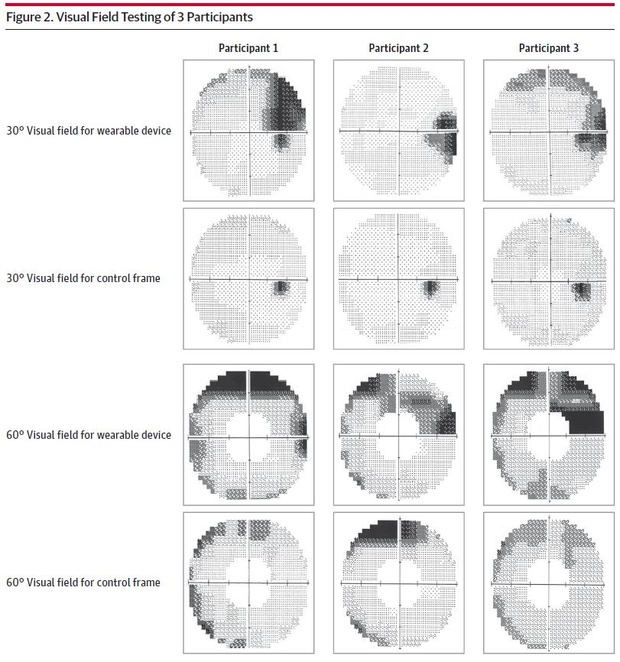 Having your glasses block out a chunk of your sight is evidently not good if there's a car barreling down on your right, or an owl about to claw your head, or a soccer ball incoming to your face, or any other situation where you would need to see clearly. However, Ianchulev's team said that more research is necessary to understand Glass' total effects on vision. A Google spokesperson emailed this statement:
"Put on your favorite shades, glasses, baseball hat, or hoodie, and you'll quickly see that this study tells us what we already know; wearing something on your face or head may affect your peripheral vision. From the beginning, the Glass team has worked closely with a range of experts to develop a device that is safe for use, and after extensive study they have not found any safety issues when it's used correctly."
The study also did not test the peripheral vision of a control group of fashionable 20-somethings wearing giant, thick-framed Skrillex glasses with non-prescription lenses.