Facebook IPO forced SEC to relocate filings to the cloud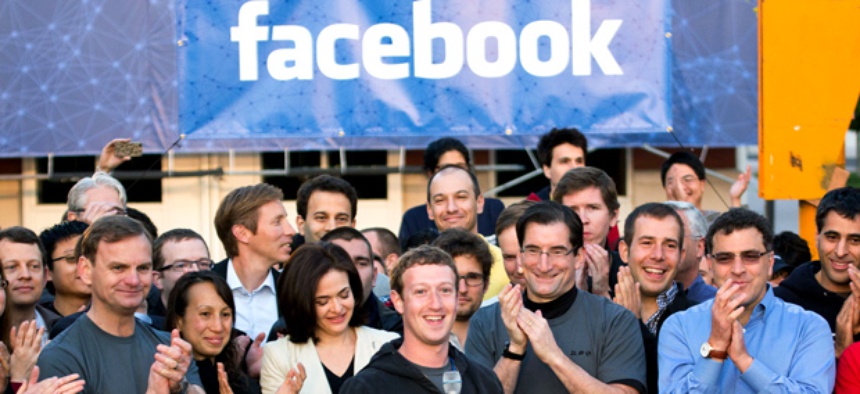 The popularity of Facebook's initial public offering drove the Securities and Exchange Commission to transfer the regulator's public statement system to the cloud, according to senior SEC officials.
Earlier this year, the Edgar tool on SEC dot-gov trembled under traffic from investors rushing to read the social network's registration filing ahead of its $16 billion IPO.
"The reason why we moved SEC dot-gov into the cloud was we had a challenge in that, in February of 2012, the first time that Facebook filed its [registration] filing on our Edgar system, we had a tremendous spike in the number of requests because TechCrunch and The New York Times and other major media outlets were referring customers to the SEC dot-gov website," to read the full financial disclosure, SEC Chief Information Officer Thomas Bayer told Nextgov during a Government Executive Media Group webcast Monday.
"We essentially ran out of available bandwidth, so service and page refresh was incredibly slow during this time period," he explained.  
Facing the possibility of a repeat performance when the stock began trading, SEC officials realized they would need to contract for auxiliary cloud space at a cost of hundreds of thousands of dollars.
The upshot: In exchange for that downpayment, SEC expects to save $3.7 million annually on operations and maintenance and avoid $9 million to $12 million in capital expenditures to bolster its in-house information technology. The May Facebook IPO went "seamlessly" for SEC and filings have continued to publish "without any performance issues since we migrated into the cloud," Bayer said.
The IPO apparently did not go so smoothly for brokers, investors and Facebook founders who have since lost money due to other technical difficulties. SEC continues to scrutinize a $62 million Nasdaq proposal that would compensate market participants for trading delays during the stock's debut, Reuters reported Oct. 29. Several mutual funds managed by banks that underwrote the May 17 IPO quickly shed 3.5 million of their 8.4 million shares by the end of the month, when Facebook's growth prospects faltered, The Wall Street Journal revealed Monday.
Bayer said many parts of his IT portfolio now reside outside the agency, including human resources applications and systems that support the collection of whistleblower tips.
"We separated those capabilities that contained publicly available data and data that was anonymized and we moved that into the cloud first," he said.
But shifting confidential business data that SEC polices remains a predicament. "Our business process workflow systems -- which contain either privacy-related data or SEC mission-critical data that we would not like to get in other people's hands -- we've kept that behind our firewall initially," Bayer said. "Over time, we intend to move that data with the approval of our business customers."