The Urban Drone Invasion is Nigh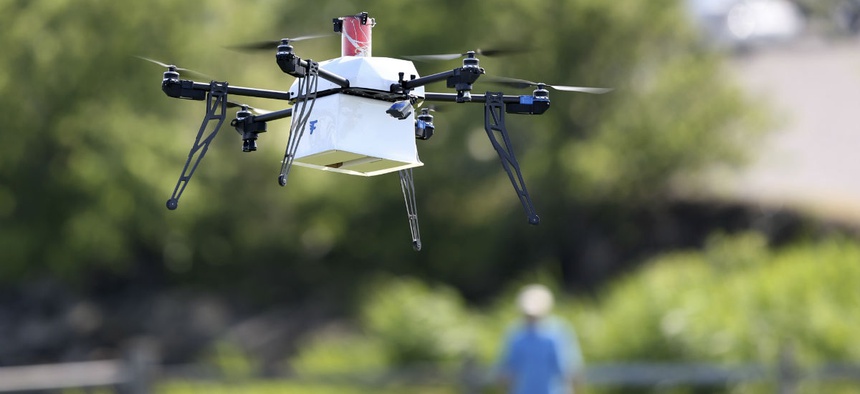 Good news, humanity: Your favorite Slurpee is now closer than ever to being dumped in your lap by a flying robot. The first regular drone delivery experiment in the U.S. wrapped up last month in Reno, Nevada, where 77 customers of 7-Eleven had orders for food, drinks, and over-the-counter medications successfully airlifted via a small drone, reports Recode.
It's a large leap forward since last December, when the Federal Aviation Administration announced a new online drone registry, where all owners of unmanned aerial vehicles weighing 0.55 pounds or more would have to register their drones, regardless of whether they planned to fly them for profit or for fun.
More than 550,000 drones have been registered, according to FAA tallies from September. And since August, when rules mandating commercial drone operators get a pilot certificate and pass a TSA background check went into effect, FAA has issued almost 23,000 licenses to commercial drone pilots
It's important to note the regulatory environment around these devices is still, er, up in the air. FAA has "intensive and exclusive" authority over national airspace, and "no state or local UAS registration law may relieve a [drone] owner or operator from complying with the federal [drone] registration requirements," the agency reminded local legislators last December.
But in implementing its rules for commercial drone operators this summer, FAA made it clear some local concerns, "including land use, zoning, privacy, trespass, and law enforcement operations," are usually not subject to federal regulations.
This leaves an opening for states and local governments. Both have been passing drone-related laws since 2013, but in some cases those laws have circumscribed cities' abilities to make decisions on their own. Oregon, Maryland and Virginia have all passed laws specifying "only the state can enact laws to prohibit, restrict, or regulate testing or operation of [drones]," according to a September report from the National Conference of State Legislatures.
FAA predicted 2.5 million drones would sell in 2016. That means the urban airspace is likely to get a lot more multirotor contraptions, whether we like it or not.
"In the near future, our city airspace will certainly become more crowded and more automated," wrote the National League of Cities in a September report on drones.
What can residents expect from the new drone era? Here are a few ways this emerging technology could reshape urban life in 2017 and beyond.
Doughnuts from the Skies
Three years ago, Amazon's Jeff Bezos first floated the idea of Amazon Prime Air. This month, the company made its first commercial drone delivery to a customer in rural England, a trip that lasted 13 minutes.
In the U.S.. it was San Francisco-based startup Flirtey that completed the first fully autonomous commercial drone delivery in July when it flew a package of doughnuts, Slurpees and other items to a customer in Reno; last month's 77-flight test included flights that lasted an average of 10 minutes after an order was placed.
Deliveries were all done within a pilot's line of sight—without permission from FAA, it's illegal for a drone to fly beyond someone's line of sight—but these drones also flew on their own.
Robot Eyes on the Road
Projects considering how small drones could monitor roads and alert emergency personnel to vehicle accidents have been under consideration since last decade. One study conducted by the Michigan Department of Transportation with Western Michigan University found "a small UAV system could be the most effective choice for urban highway traffic monitoring," although no drones went airborne at the time.
But in Upper Uwchlan Township in Pennsylvania, about an hour outside of Philadelphia, a DJI model drone with an affixed camera has been watching over intersections since 2015, according to police chief John DeMarco.
"We do traffic patterns of evaluation: volume, how many people turn right, turn left," he says. "We've used it in the past to analyze township infrastructure. When we're going to redo an intersection, we fly out and map the intersection using drones."
The biggest benefit, he says, is the ability to document roadway condition from the air.
"We photograph a road if there's going to be heavy construction, and document the condition of the road before and after," DeMarco said. "We're protecting the township's assets."
Paging Dr. Drone
After extinguishing most of the fire that engulfed the Ghost Ship warehouse in Oakland earlier this month, firefighters flew a drone equipped with a thermal imaging camera over the remains to scan for hotspots that might have reignited the blaze.
Fire services via drone are a growing field: The Menlo Park Fire Protection District in California, for example, plans to have three drones on hand within three years to investigate hazardous chemical spills or burned-out buildings.
But as Olga Khazan reported in The Atlantic, drones are now being viewed as a tool for the medical field, either for emergency response or for transporting critical supplies. Zipline, a Silicon Valley-based startup, is already ferrying units of blood to rural clinics in Rwanda. A host of tests at remote sites and airports in the U.S. are also investigating the possibilities.
"There's always some anxiety around introduction of new technology, and medicine is often the way to get that ball rolling," says Dr. Timothy Amukele, an assistant professor with the Johns Hopkins University School of Medicine. He has partnered with Flirtey in the past for such drone-medicine tests, and his own research shows that drones can safely transport units of blood, including enough for transfusions in medical emergencies. "There's definitely interest in making [drones] a real part of our future."
Somebody's Watching Me
Perhaps the most pressing of drone-related legal concerns is one out of FAA's purview, and that's privacy. Since 2013, 22 states have passed drone-related privacy legislation concerning when law enforcement needs a warrant before using a drone for surveillance or how to corral peeping toms from buzzing above houses. (A Mississippi law makes it a felony offense with a possible five years in prison for any nosy neighbor caught sneaking a drone-enabled peek.)
Some cities, like Chicago, have explicitly banned drone flights "directly over" people and private property without consent. But as the National League of Cities points out, cities have been slow to act in taking up privacy considerations for drone use, and it's a topic that remains fraught, especially when it comes to homeowners with concerns about drones hovering in the airspace directly above their houses.
Drone Cops!
Local and state law enforcement have already learned how useful these eyes in the sky are for surveilling from the air during search-and-rescue operations, vehicle accidents and large gatherings—like 2016 Spring Break on South Padre Island.
But many troublesome questions loom about police applications: Are cops allowed to gun down drones?
A drone was shot down by local authorities in October during protests against the Dakota Access pipeline after a helicopter pilot monitoring the protest from above said the drone approached in a "threatening manner," according to CBS News.
Over the summer, Utah's state legislature passed a law authorizing police to shoot down drones after repeated appearances by the craft over the state's Saddle Fire wildfire forced the grounding of firefighting aircraft. But it's arguable that law enforcement personnel are allowed to shoot down drones at all. It's a federal crime to shoot down any aircraft, and as of last spring, FAA clarified the law to say it includes drones.
Another big concern is warrantless surveillance from the air, something the American Civil Liberties Union makes clear in its recommendations on domestic drone usage: Drones "should be deployed by law enforcement only with a warrant." The International Association of Chiefs of Police seems to agree, writing in a 2012 document on recommended drone guidelines that if "there are specific and articulable grounds to believe that the [drone] will collect evidence of criminal wrongdoing and if the [drone] will intrude upon reasonable expectations of privacy, the agency will secure a search warrant prior" to any flight. So far, 18 states have passed laws requiring police to obtain a search warrant before using a drone for surveillance.