Postal Service Agents Will Trawl Facebook, Dating Sites to Root Out Fraud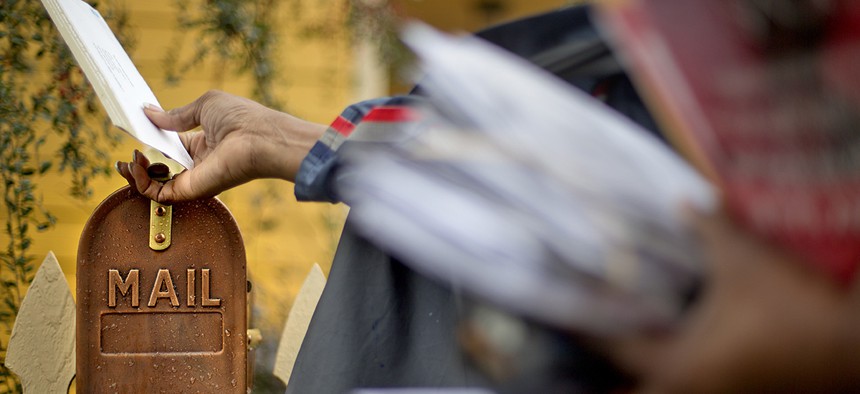 A dishonest Postal Service employee, citing a bad back, says she can't lift a thing, files for workers' compensation, collects a paycheck and stays home from work. A simple visit to her Facebook page, however, shows the purportedly injured employee lifting weights at a bodybuilding competition.
That hypothetical situation comes from USPS Inspector General spokeswoman Agapi Doulaveris. She says it shows the value of social media as a source of information for the U.S. Postal Service's Office of the Inspector General and its law enforcement agents, who investigate employee fraud and misconduct.
And the agency is now planning to train agents how to probe wayward personnel using social media and other open source data, Doulaveris said. The online monitoring will only key in on postal workers who have already come under their radar, she added.
Paid consultants are scheduled to teach agents "Internet reconnaissance" during a three-day June workshop at the office's Arlington, Virginia, headquarters, according to a November 2015 contracting notice.
The training will include methods "to identify the target individual/organization's social media and Internet footprint," the notice states, referring to government employees, contractors and other companies. "Developing the methods necessary to attack those targets successfully" via social media and other public Internet pathways will be one lesson. 
A government or contract employee's online footprint could include, among other things, dating websites, user name searches, phone searches, website downloads, people searches, and public records, according to the contract synopsis. Specific websites mentioned are Facebook, YouTube, Pinterest, Google Image Recognition, CraigsList and Google Advanced Search.
The online surveillance performed must be covert "with no attribution back" to Postal Service agents, according to the contract.
On March 8, the Postal Service inked a $12,000 training deal with Infinity Investigative Solutions, a Fairfax, Virginia, small business with roots in the financial investigations field. 
Only techniques that are legal and comply with federal policy will be presented, the notice stresses. 
"All the information we're looking at is publicly available," Doulaveris told Nextgov on Monday.
Previously, agents consulted social networks sporadically, if they were familiar with search tools. Now, "we want everybody to have consistent training," she said. 
Some past internal USPS crimes seem particularly suited for YouTube or travel Instagram scrutiny.
For instance, during the final quarter of fiscal 2015, investigators discovered that a former Pennsylvania carrier was competing in multiple amateur horse association events while receiving workers' compensation and disability retirement benefits. 
Video surveillance captured the ex-employee competing and riding on several occasions, according to a fall 2015 USPS inspector general semiannual report to Congress. In August 2015, the unnamed carrier was found guilty on five counts of mail fraud, two counts of conversion of government funds, one count of false statements and two counts of false or fraudulent statements regarding workers' compensation. 
Separately, last year, an investigation revealed a California-licensed psychologist collected payments for treating postal workers while she was out of town and on vacation, according to the report. Along with other improper billings, the total estimated fraud tallied close to $500,000.
The USPS inspector general does not reveal investigation sources and methods so it is not known whether social media analysis was used in these cases.