DOT's Smart City Challenge Aims to Jump Start Driverless Cars in US Cities
Given all the advances being made in driverless cars, America's cities have been startlingly slow to incorporate the technology into their plans. A recent analysis found that, as of mid-2013, just one of the 25 largest U.S. metropolitan planning organizations bothered to mention autonomous vehicles in its long-term outlook—that single nod coming in a brief sidebar. But dangle up to $50 million out there for a futuristic transport vision and it's amazing how quickly things change.
The Transportation Department did just that in December when it announced the Smart City Challenge, an urban innovation contest that asked mid-sized metros to draw up ideas for improving safety and mobility with driverless cars, intelligent infrastructure, street sensors, and the like. Since then 78 cities have applied, with DOT set to narrow the field to five finalists this Saturday at South by Southwest. The winner will be named in June.
"I think there was pent-up energy at the city level for a chance to define the future," Transportation Secretary Anthony Foxx tells CityLab. "That's what we're giving these cities."
Foxx says the goal of the challenge is to produce not just conceptual outlines but "real models" at work in an urban environment. To that end, DOT will announce a new contest partnership today with the infrastructure software giant Autodesk. As they refine their proposals, the finalists will get access to (and training on) Infraworks 360, a "building information modeling" platform that uses 3-D visualizations and real-world data to plan major engineering projects.
"Their system is able to create 20 different versions of the same thing and help you figure out which of those versions makes the most sense," says Foxx. "What they bring is … the capability to design a concept on a computer and to actually see how well it works. To scope it, to figure out what inputs you need, to figure out what changes you need to make before you spend a lot of money putting something on the ground."
Infraworks has been used for a number of major civil infrastructure projects, including Denver International Airport's new hotel and transit hub. Washington, D.C., recently used the program to model how energy retrofits or green roofs could help the city meet its sustainability targets. Theo Agelopoulos of Autodesk says Infraworks is particularly handy in selling complicated projects to the public—producing vivid designs and hard figures that simplify the discussion.
"The ability to create a model attached to their cost-benefit analysis, run a bunch of different scenarios, and optimize which project the city should basically pick—that provides the most benefit to the constituents," Agelopoulos says. "More and more cities, in light of funding challenges, want to make better decisions."
Jim Lynch, the vice president of the building products group at Autodesk, says Infraworks is "extremely relevant" to the Smart City Challenge because it can model futuristic transportation scenarios onto existing urban environments. In addition to multimodal traffic simulations, says Lynch, the program can consider the impact of driverless cars and intelligent sensors on local mobility. It "ultimately helps city planners show and tell multiple design ideas and iterations," he says.
The winning city will get a year-long subscription to Infraworks 360, as well as on-site training. Other contest partners include Vulcan Inc., which may award up to $10 million on top of DOT's base prize of $40 million, and Mobileye, which will provide driver-assistance technology to city buses. Every applicant city must have an "established public transportation system"—a recognition by DOT that urban mobility will benefit if driverless cars and transit work together, not at odds.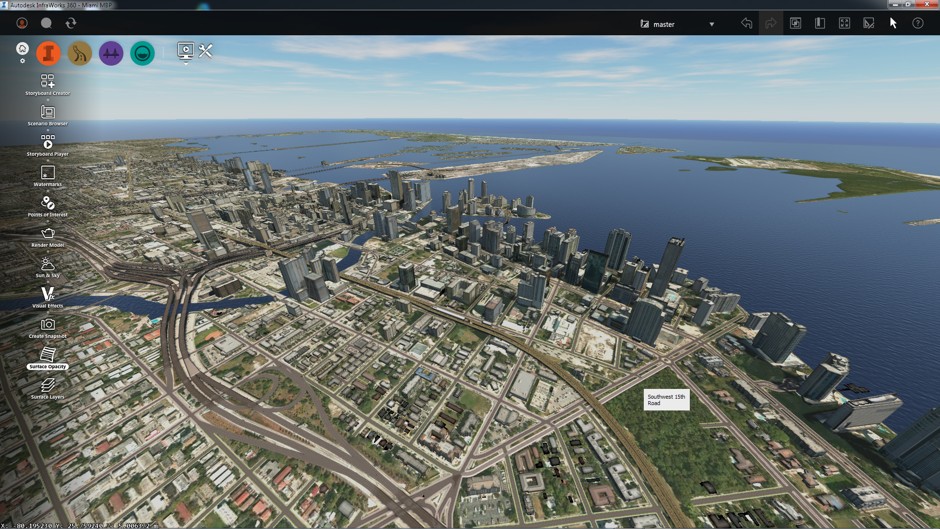 DOT emphasized the need to increase travel choices in its 30-year "Beyond Traffic" plan from early 2015. While that progressive vision outlined a multimodal future for urban America, the federal transportation bill passed by Congress in December largely stuck to the same highway-heavy funding script the country has followed for decades. But a subsequent budget plan urged a new direction for local planning, one that involved large-scale testing of driverless technology.
The Smart City Challenge offers mid-sized metros the chance to "embrace these innovations as they come online," says Foxx, and to support sweeping ideas with "actual implementation plans." The fact that few cities have done such planning on their own was one of the "driving forces behind this challenge," he says. "Part of this challenge is really nudging our cities, our incubators of innovation and ideas, to imagine how they may use this technology, not just 30 years from now but today."