White House Gets Superserious about Supercomputing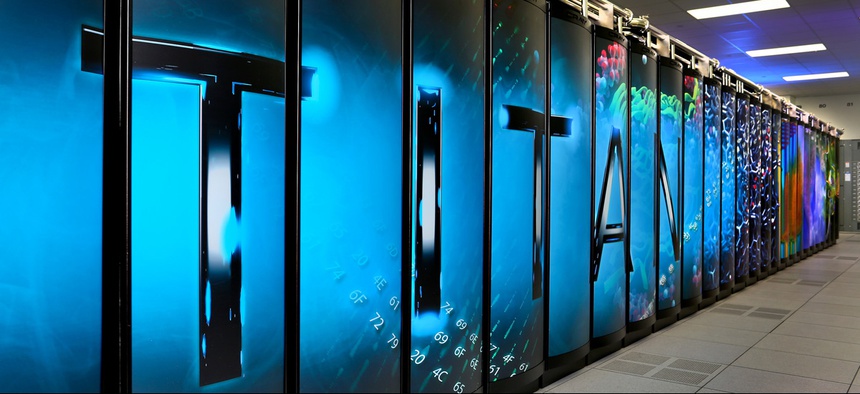 President Barack Obama on Wednesday signed an executive order requiring the federal government to invest in, research and deploy supercomputing technology in the public sector. 
Titled "Creating a National Strategic Computing Initiative," the order mandates that federal agencies collaborate to create "a coordinated federal strategy" for high-performance computing, aiming for technology with 100 times the performance power of current petaflop systems (defined in the order as "the ability to perform 1 quadrillion arithmetic operations per second.")
The idea is that the federal government will work closely with the private sector and academia on high-performance computing.
The order requires the departments of Energy and Defense and the National Science Foundation to "execute a joint program" focused on using supercomputing for "advanced simulation."
The Intelligence Advanced Research Projects Activity and the National Institute of Standards and Technology are tasked with studying supercomputing technology as an alternative to "standard semiconductor computing technologies."
Other agencies -- NASA, the FBI, the National Institutes of Health, the Department of Homeland Security, and the National Oceanic and Atmospheric Administration -- are directed to "integrate the special requirements of their respective missions" into the design of new high-performance computing systems and applications.
This process is to be overseen by an executive council, chaired by the director of the Office of Science and Technology Policy -- who will choose other members from the executive branch --  and the director of the Office of Management and Budget, the order said. The executive council must meet at least twice a year, and within the next three months, create an "implementation plan" for a national supercomputing strategy. 
Even once the "limits of current semiconductor technology are reached" over the next 15 years, the order tasks the federal government with establishing "a viable path forward" for future supercomputing systems in a "post-Moore's Law era."
In a White House blog announcing the initiative, OSTP's Deputy Director for Technology and Innovation Tom Kalil and Deputy Assistant to the President Jason Miller described supercomputing applications in health care and engineering, among other fields.
For instance, higher-power systems could help clinicians "understand the complex biological mechanisms underlying a patient's disease, and to better predict the most effective treatments" by processing large volumes of genomic data. 
"As DNA sequencing technology improves, the volume of data will continue to increase and so too will the computational requirements," they wrote.
High-performance computing can also be useful in aircraft design, especially to simulate fluid dynamics. Though the aircraft industry has often used simulations in place of wind tunnel and flighttesting, "current technology can only handle simplified models of the airflow around a wing and under limited flight conditions."
A recent NASA-commissioned study concluded that more powerful computing machines would allow "full modeling of turbulence, as well as more dynamic flight conditions, in their simulations," they wrote.