Park Service Employees Get New Mapping Tools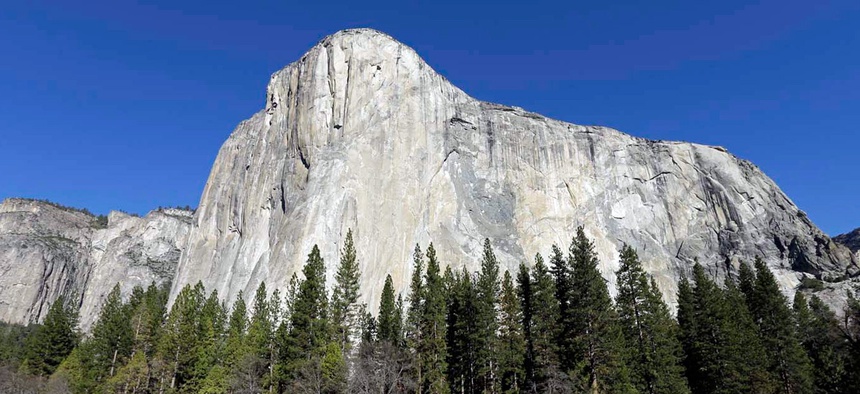 In the coming weeks, the National Park Service plans to release a digital map-editing tool so easy to use it could turn the service's 20,000 park rangers and other employees into amateur cartographers.
Maintaining comprehensive and up-to-date digital maps of the hundreds of "special features" the Park Service manages across 84 million acres of land has become a challenge, according to Nate Irwin, the leader of the service's mapping team.
There are very few agency employees who have access to geographic information services software, Irwin said.
The Park Service team has spent almost three years designing "Places Editor," a simplified digital interface expected to give any park service employee or volunteer an easy way to update official Park Service maps.
The maps depict trails, features and other landmarks on National Park Service sites.
"Whereas in the past, [Park Service employees] had to have very specialized knowledge and specialized software installed on their computer," Irwin said in an interview with Nextgov. "Now, they can just go and use a simple online editor and add their information very quickly."
The design concept is based on OpenStreetMap, the so-called Wikipedia of online maps. Irwin's team used the code in iD, an OpenStreetMap editor, and modified it for the park's purposes.
Here's how the new tool will work in practice. Let's say, a park ranger is patrolling Yellowstone National Park. She opens up the editor tool to input some new data elements. She's presented with a near real-time map, so she knows which parts of the park map need updating. If the area around Old Faithful on the map appears to be missing a trail, she can draw it in with a line tool and then specify whether it's a trail or an equestrian path. She can then fill in its name, width, hiking difficulty and other points of interest.
The information collected in "Places Editor" will be sent directly to the "Places Database," and used mostly for internal park service purposes. But in January, when NPS celebrates its 100-year anniversary, its redesigned website will go live and so will the information collected through the editor, according to Irwin.
The editing tool's success hinges, in part, on its popularity. Only a few NPS regions have the resources to vet information as it comes in, according to Irwin.
"It'll be kind of like a self-maintaining database," he said. "If a mistake goes in, someone else will come in and fix it."
One idea for insuring its popularity is to turn it into a game. In the future, Irwin said he plans to post statistics for each park employee to show how many times they have contributed to the editor.
FedScoop first reported the upcoming launch of the map-editing tool.
Over the last six months, the park service has been beta testing "Places Editor" with a few of its employees, according to Irwin. Based on feedback, his team made the tool even more self-explanatory.
"We really had to simplify, simplify, simplify to get it down to the bare necessities of what we're looking for," Irwin said.