Here's How the Incoming USAID Tech Guru Plans to Fight Ebola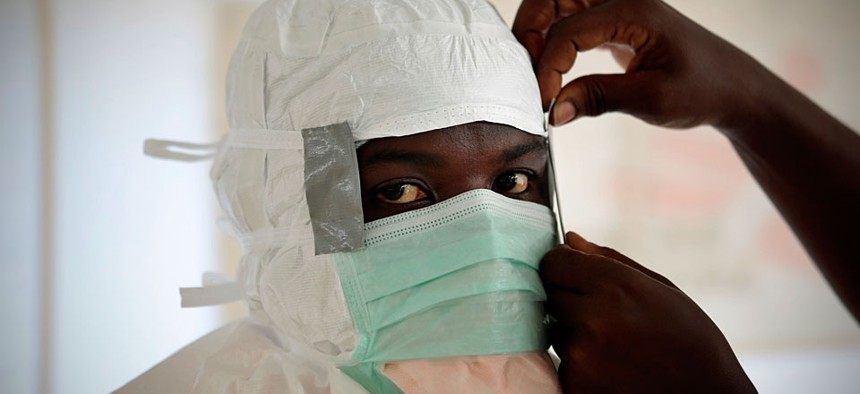 Ruggedized tablets, belt-worn printers and a high-tech alternative to the stiflingly hot protective gear health-care workers must wear when dealing with patients.
Those are some of the technology tools the incoming chief innovation officer at the U.S. Agency for International Development says he plans to explore to combat the spread of the Ebola virus in West Africa.
Steven VanRoekel, the former federal chief information officer, starts Monday as the administration's digital point-man in the response to the crisis.
Much of the technology VanRoekel is interested in pursuing is "point-of-care technology," he said Thursday at the GeekWire summit in Seattle.
For example, last Friday USAID issued a grand challenge to private sector innovators to come up with an alternative to the plastic suits health workers are required to wear when administering to patients or cleaning up contaminated areas.
"They weren't made for Western African summers, which we're approaching right now," VanRoekel said. "Doctors I've talked to have said that they can spend about 20-40 minutes in the thing when they need to work about 12-hour shifts on these floors in these treatment centers."
Right now, USAID is experimenting with body-worn sensors to get a baseline of a comfortable temperature "so we have a target for these innovators to shoot at," he added.
The agency is also looking at improved communications between care workers and the public.
"If I blast text messages in targeted ways out to the citizens of these countries, can we be more coordinated in getting them to change behavior?" VanRoekel said.
Officials also want to harness the power of big data to glean patterns in disease transmission, including contact tracing and behavior modeling. When fully operational, this could help aid workers frontload supplies or stand up clinics among certain populations ahead of a potential localized outbreak.
It's somewhat familiar territory for VanRoekel.
In 2011, he spent a summer at USAID on detail helping the agency respond to the drought in the Horn of Africa. Before that, as a Microsoft executive, he helped Bill Gates launch the tech billionaire's polio vaccination effort.  
There's "a lot to do in this space and I think I'm probably hitting the tip of the iceberg on where technology can play a role," he said.