TSA seeks friendly avatars to help travelers through security checkpoints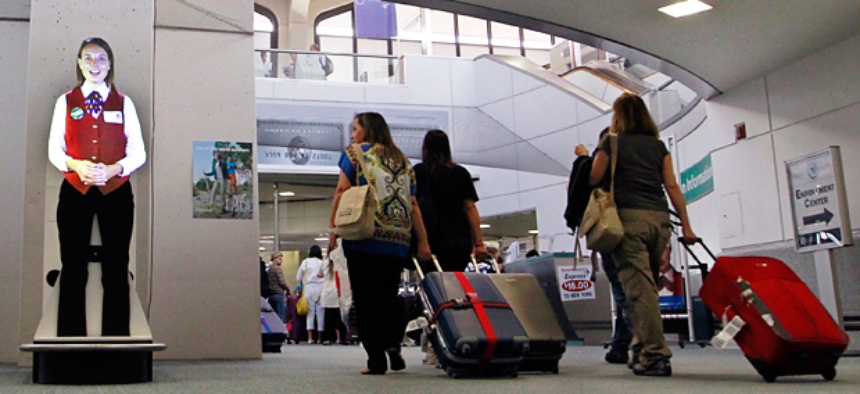 Government officials are looking for a few good avatars to help the traveling public navigate the front lines of the transportation security battlefield.
The Transportation Security Administration is surveying the marketplace for information on computer-generated customer service representatives that are "easy to understand and see and should be courteous when communicating to the traveling public," according to contracting documents.
The automaton must be a hologram, video projection or other similar display. And he or she should be able to speak at least English and Spanish.
If TSA ultimately buys computer-generated screeners, they would be used to help passengers move through security checkpoints as quickly as possible by apprising them of items that need to be "divested," the documents said. Perhaps a hologram, communicating in "easy to understand" language, one day will explain what that means exactly.
The technology should not transmit harmful rays or any other unsafe emissions, nor interfere with body scans, metal detectors and other checkpoint technology, the documents state.
Suggestions for a "virtual communication instructional device" are due by Aug. 13. TSA said officials welcome test reports, product brochures and links to demonstrations.
At least three airports are leading the way in employing nonhuman talent. The Port Authority of New York and New Jersey recruited an attractive young android named "Ava," according to news reports. On July 27, the Newark Liberty International Airport was expected to station her hologram-like image in the international arrivals area in Terminal B, the Associated Press reported.
New York and New Jersey apparently are paying $180,000 to offer Ava's services at Newark, Kennedy and LaGuardia airports.
"She's programmed to answer passengers' most frequently asked questions," the AP noted.
No word on whether TSA's humanoid will be able to talk back to passengers.