Congressman Darrell Issa's call to the Internet's right side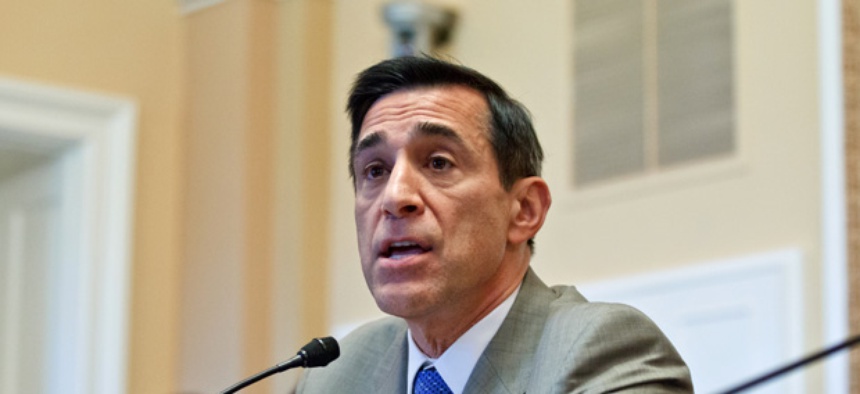 On the national stage,
California Republican Darrell Issa
has been known for a curiously colorful variety of things. As chairman of the U.S. House of Representative's lead oversight committee, Issa, has been the thorn in the Obama Administration's side over the "Fast and Furious" gun-walking operation that found Attorney General Eric Holder in congressional contempt and how the Department of Energy's billions in stimulus dollars are being spent. It was six-term, 58-year-old Issa who was the responsible for not letting Georgetown law student Sandra Fluke testify at that contraception hearing. He's also the entrepreneur who made a fortune in car alarms and other electronics, money he used to fund the 2003 recall of Governor Gray Davis. It is, rather famously, Issa's voice that says "Protected by Viper...Stand back!" in the '90s TV commercials.
But in the tech world, the congressman from north of San Diego is known for something quite particular. Darrell Issa emerged during this winter's debate over the Stop Online Piracy Act as a politician willing to question Washington dogma about how you go about protecting copyright online. Issa and a suddenly swelling band of allies asked tough, tech-savvy question about what the legislation would do to the Internet's workings: the effect of website blackouts on the domain-name system, for example, and the liabilities the bill would place on sites like YouTube and everyday blogs to patrol for infringement. Darrell Issa sounded the alarm over SOPA. The Internet came running.
Post-SOPA, Issa says he's eager to keep attention on how Internet policy gets made in Washington. He recently changed his Twitter avatar from a
cartoon cop
to a
superhero in the shadow of a "cat signal
," the digital alert of the brand-new
Internet Defense League
, a coalition of activists and web companies that sports the tagline, "Make sure the Internet never loses. Ever." In an interview, Congressman Darrell Issa makes his case for why a conservative approach is the best hope for keeping the Internet full of win.
Before SOPA put tech policy so much in the news, Democrats and liberals arguably carried the mantle as champions of the Internet in Washington. But that seems to be shifting, with new talk of a conservative vision for Internet policy.
Issa: The short and easy to understand answer for anyone is that conservatives have long staked out the ground that government does best what it does least, and when it comes to the Internet the same has to be applied.
Overregulation can and would undoubtedly destroy creativity, as would certainly picking sides, winners and losers, whether it's overregulating with net neutrality -- which is essentially taking by government fiat through the administration and the FCC [Federal Communications Commission] -- or the attempts legislatively with SOPA and PIPA [The Senate's Protect IP Act] or TPP [The Trans-Pacific Partnership, a multilateral trade agreement currently being negotiated], where the administration may in fact have a considerable impact on movement over the Internet by international agreement.
On all of these, conservatives would say, where is the pressing absolute need? Where is the constitutional obligation and right? And weigh that against personal liberty, the First Amendment, and so on. 
Let's take the Digital Bill of Rights you put together with [Oregon Democrat] Senator Ron Wyden. One critique in conservative corners is that you're dabbling in "rights inflation." We already have rights under the plain ol' Bill of Rights, and when you talk about things like "openness" and "accessibility" it suggests that there has to be some for government to ensure those rights. What does "Digital citizens have a right to access the Internet equally, regardless of who they are or where they are" mean, for example, if it doesn't mean government advancing some sort of broadband policy?
Issa: Equal access and being paid for by somebody else to get access at your station are two different things. I read the Digital Bill of Rights on equal access to be about an equal opportunity to access it, not some sort of "We'll guarantee you 256k to the home," as they did in Korea.
It doesn't change the fact that Republicans and Democrats have supported broadband rollout, some subsidies. But a better example would be that there is some regulatory history over ensuring that there is both access that you pay for and competition to ensure that you don't overpay when it comes to telephone, Internet, and, for that matter, television. All of that has a long bipartisan history. 
Read the
full interview
at
The Atlantic
.