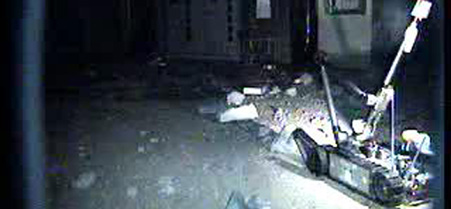 Radio-controlled PakBot robots were used in disaster response to the Fukushima Dai-ichi Nuclear Power Plant disaster. AP photo
The Defense Advanced Research Projects Agency intends to award a contract to Boston Dynamics to build humanoid robot systems for top performers in a Pentagon-funded contest to develop robots that could aid in disaster response, according to a government procurement notice .
The DARPA Robotics Challenge program is a research and development project to develop robots that can execute complex tasks in dangerous and degraded environments, according to a request for proposals . The Pentagon will dish out up to $34 million for this program. Proposals are due May 12.
Boston Dynamics Inc., maker of the famed Big Dog and Petman, will build eight identical platforms consisting of "two legs, torso, on board computing, two arms with hands, and a sensor head." They will provide the machines to the top software development teams to work with. Read the special notice here .