DOD IG says Army could waste nearly $22 billion on augmented reality headsets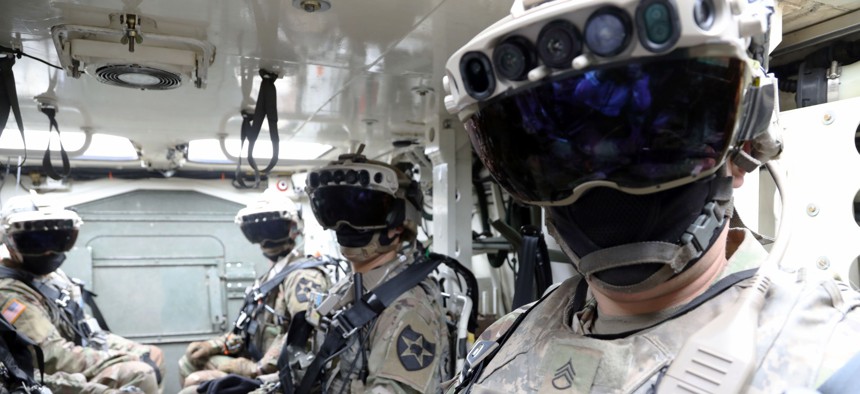 The Army failed to define key metrics to determine whether soldiers would actually find its tactical augmented reality goggles useful – a move that could cost nearly $22 billion in taxpayer funds, according to a recent watchdog report. 
The Army's Integrated Visual Augmentation System (IVAS) program has been underway for nearly four years and promises to integrate key warfighting functions such as radio communications, high-resolution night, thermal sensors, and overlays of maps and other imagery used to enhance situational awareness. 
But according to a Defense Department inspector general report released April 22, IVAS program officials did not clearly define "measures of user acceptance levels to determine whether IVAS will meet user needs."
User acceptance is considered a "core metric" gathered through surveys to measure soldier experience and track progress through the system's development, according to the report. 
"The purpose of user acceptance testing is to consistently monitor the likelihood of meeting user needs. The more prototype testing with Soldiers and incorporating changes based on Soldier feedback, the higher likelihood of their acceptance of IVAS," the document states.
But the IG found that program officials didn't define those minimum user acceptance levels because Army policy didn't require it.
"Procuring IVAS without attaining user acceptance could result in wasting up to $21.88 billion in taxpayer funds to field a system that Soldiers may not want to use or use as intended," the inspector general wrote. 
The IVAS program has been heralded as a success story in Army technology procurement, one that used rapid acquisition authorities and relied on frequent user feedback to go from a $23 million prototyping effort to a $21 billion contract with Microsoft that made national headlines last year.
The program has hit some setbacks, that Army Secretary Christine Wormuth previously said were related to image displays in the headset and were being worked through. 
DOD's inspector general recommended the Army's acquisition chief develop a service-wide policy that requires program officials to define user acceptance measurements for testing. But Douglas Bush, the Assistant Secretary of the Army (Acquisition, Logistics, and Technology) disagreed, writing in response that such policy "already exists" under current Army regulations and that any additional policy would need to be cleared and "analyzed for impact" by the director for Army Test and Evaluation. 
The IG requested the Army acquisition chief reconsider the position.