DHS Chief Defends $6 Billion Federal Firewall after Stinging Audit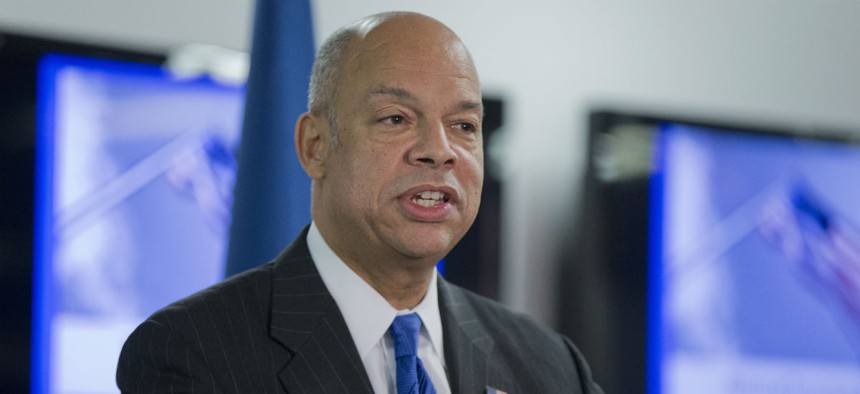 Updated 4:50 p.m. to include a statement from Sen. Tom Carper, D-Del., ranking member of the Senate Homeland Security and Governmental Affairs Committee. 
Department of Homeland Security Secretary Jeh Johnson on Jan. 31 defended the past accomplishments and future potential of a counterhack tool that was criticized in a recent congressional audit.
The $6 billion firewall, dubbed EINSTEIN, was created in 2003 to detect and thwart nation-state intruders who target federal computer systems. But a Government Accountability Office report released Thursday to the public revealed the scanning technology is not meeting its stated goals.
The detection piece of the system ignores common security vulnerabilities and cannot see into Web traffic, auditors found. Only 5 of the 23 major nondefense agencies possess the capability to block assailants.
In a statement, Johnson said while the prevention function might not be activated across the board, agencies equipped with the service represent 50 percent of the government workforce.
That blocking-feature, known as EINSTEIN 3A, ingests intelligence from the National Security Agency and other sources about patterns of attacks, called signatures, to learn what type of network activity to look for.
"Unlike commercial products, EINSTEIN 3A can rely upon classified information, so the government is protected against our most sophisticated adversaries," Johnson said.
The statement is somewhat at odds with the GAO's observation that the tool does not carry signatures "that fully addressed all the advanced persistent threats" reviewed. That's a reference to the typical modus operandi of foreign hackers, in which they gain a foothold in part of a target's system and linger invisibly for months at a time until achieving their mission.
A suspected Chinese spy team purportedly bypassed EINSTEIN and then retrieved background check records on 19.7 million individuals applying for national security jobs. The weapons of choice, "zero day" exploits, take advantage of software holes no one knows about, including NSA.
Johnson on Saturday recognized the limitations of EINSTEIN, adding that some are deliberate while others are being addressed today.
"The EINSTEIN system is not a silver bullet," he said. "It does not stop all attacks, nor is it intended to do so. It is part of a broader array of defenses."
The statement added: "As GAO notes correctly, the current version of EINSTEIN only blocks cyberthreats we know about. But EINSTEIN also provides a platform for new technologies to protect the government. I have therefore directed our team to research and build capabilities that will allow us to detect never-before seen attacks, leveraging the best of government and private sector technology and expertise."
DHS-approved Internet service providers equip networks with EINSTEIN 3A protections and some agencies do not currently subscribe to those ISPs. Last summer, Johnson vowed to make the tech available to all departments by the end of 2015 and did so, by contracting with CenturyLink to protect those agencies that cannot obtain EINSTEIN 3A through their existing providers.
"DHS will continue to ensure that every department and agency is in fact protected by the program in the near future," Johnson said Saturday. "I have communicated directly to Cabinet members to ensure that we collectively prioritize this." 
Congress, in a December 2015 spending package, mandated all departments use the feature by the end of 2016. A year ago only about 20 percent of the government was insulated by EINSTEIN 3A, Johnson said.
On Monday, Sen. Tom Carper, D-Del., who co-sponsored the EINSTEIN mandate said his legislation could add some teeth to Johnson's plans.
"It ensures that EINSTEIN covers the entire civilian federal government's networks and requires that the Department of Homeland Security use the latest available technologies available," he said in a statement. "Furthermore, it requires new transparency and accountability reports from the department and other agencies to make sure agencies stay on track."
That said, the White House must make installation across the federal government a top priority, Carper said.
On Jan. 13, Andy Ozment, DHS assistant secretary for cybersecurity and communications, said the prevention mechanism will be phased in across the government over the next 12 months. 
"Frankly, we hadn't intended for every agency to get deployed all on the same day, so we are going to have to stagger them throughout the year," he said at a Congressional Smart Contracting Caucus briefing on cybersecurity. "But we have seen an incredible change in our ability to work with agencies in the four weeks since that bill was passed. 
EINSTEIN 3A has blocked more than 700,000 cyberthreats so far, Johnson said.