NSA Surveillance Bill Advances in Senate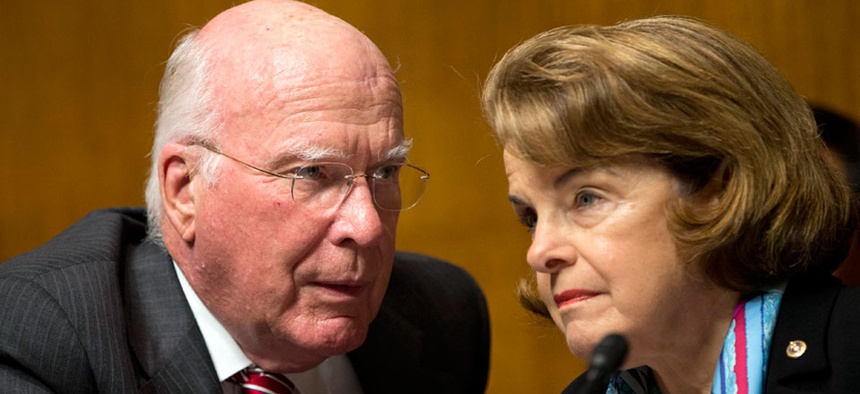 The Senate Intelligence Committee approved legislation Thursday aimed at protecting the National Security Agency's controversial domestic-surveillance activities by taking steps to increase transparency and accountability.
The bill from Intelligence Chairwoman Dianne Feinstein, D-Calif., and Vice Chairman Saxby Chambliss, R-Ga., seeks to put to rest a growing debate over whether the NSA's surveillance of millions of ordinary Americans phone and Internet records are justifiable for national-security reasons.
The bill, which the committee approved 11-4, would impose criminal penalties for unauthorized access to phone-record data gained through the Foreign Intelligence Surveillance Court. It also puts limits on the information's use, but it largely codifies current practices.
The Senate Judiciary Committee plans to consider a further-reaching reform bill sponsored by Chairman Patrick Leahy, D-Vt., that would end the NSA's sweeping bulk-data collection practices.
Reform advocates who support this approach are gunning for a fight with the Intelligence Committee over its bill.
Sen. Mark Udall, D-Colo., who serves on the Intelligence Committee, voted against the Feinstein bill, criticizing it for falling short of "real" reform, and is cosponsoring Leahy's.
"Unfortunately, the bill passed by the Senate Intelligence Committee does not go far enough to address the NSA's overreaching domestic surveillance programs," Udall said in a press release.
Feinstein said she looks forward to working with Leahy and the Judiciary Committee (where she also serves as the No. 2 Democrat) to move legislation to the Senate floor.
Questionable NSA practices keep making headlines, and keep getting lawmakers' attention. Another leak from former NSA contractor Edward Snowden that made The Washington Post this week claims the NSA is infiltrating major Internet companies like Google and Yahoo.
Recent revelations that the U.S. monitored the cell-phone calls of German Chancellor Angela Merkel and other foreign leaders prompted Feinstein this week to call for a full-scale intelligence review. But she told National Journal Daily that she needs additional resources and is talking to appropriators about it.
"We've taken a 20 percent cut in our budget, and we need some funds for some key staff to do this," she said.