Homeland Security No. 2 Departs After Fostering Civilian Cyber Workforce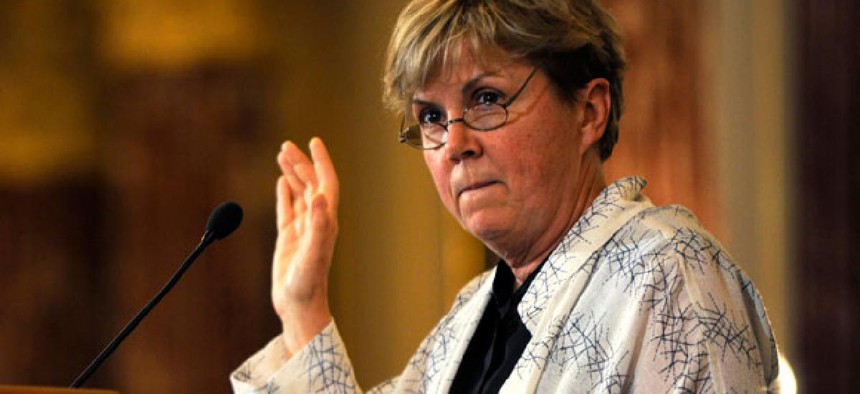 The Homeland Security Department second-in-command, who endeavored to boost civilian cybersecurity staffing, is exiting the agency, DHS Secretary Janet Napolitano announced on Tuesday.
Jane Holl Lute plans to enter the field of international Internet affairs, Reuters was the first to report. 
While at DHS, she strategized to boost morale, if not pay, for in-house cyber talent. It is widely recognized that the federal government struggles to pluck cyber professionals from lucrative private sector careers. "We're trying to create a culture that allows cyber heroes to bring value and to feel valued" by superiors and society, she told Nextgov in October 2012. 
Lute was responsible for instituting recommendations by a group of technology revolutionaries, including DefCon hacker convention founder Jeff Moss, on economical solutions to the human capital problem. In fall 2012, she backed the creation of a cyber reserve corps. It would corral veterans, corporate network whizzes and other computer-savvy civilians during national crises.  
Lute said she was aware that forming a National Guard-like roster would require more than periodic management: "It's not something where you type up a page and throw it in the drawer," she said during an interview with Nextgov at the time. "People's skills have to be current."
Incidentally, Lute's exit coincides with the loss of several senior DHS cyber managers.  Mark Weatherford, the department's top cyber official, is joining a consulting firm headed by Michael Chertoff, a DHS secretary under President George W. Bush.  In addition, Richard Spires, long-time DHS chief information officer, is on leave. 
Lute "spearheaded the department's efforts to enhance cybersecurity to secure unclassified networks for federal civilian departments and agencies, and protect our nation's critical infrastructure," Napolitano said in a statement. "She was instrumental in the department's effort to implement recommendations by the Homeland Security Advisory Council Task Force on CyberSkills, to ensure that DHS expands the pipeline of men and women with advanced cybersecurity skills, and enables us to become a top competitor for cybersecurity talent." 
Lute arrived at DHS in 2009, following a stint as assistant secretary-general of the United Nations, where she led efforts to sustain peace in countries emerging from violent conflict. She also was a National Security Council staffer under presidents George H.W. Bush and Bill Clinton and served in the Army during Operation Desert Storm. 
Lute told Reuters that "she was leaving with the department on a strong footing in Internet matters, with its central role cemented by an executive order on cybersecurity issued by President Barack Obama in February." The order positions DHS, rather than the Pentagon's National Security Agency, to take the lead in laying down nationwide standards for private sector computer security. 
The military's Cyber Command, however, will be heavily involved in protecting the same commercial systems.