NSA chief plugs federal standards to regulate industry computers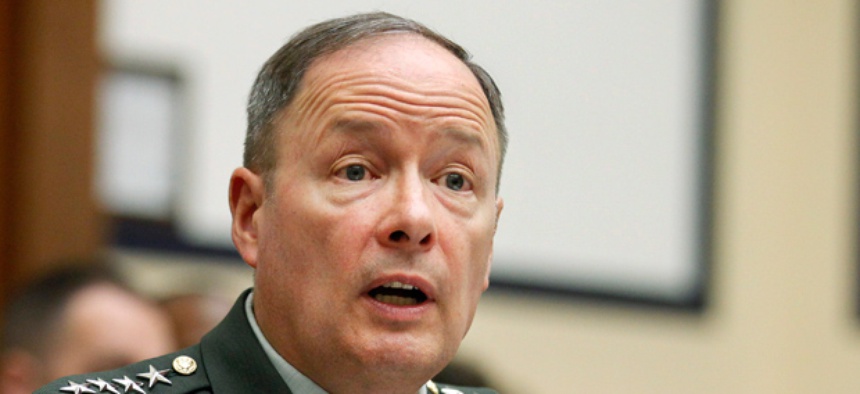 A top Pentagon official has suggested lawmakers consider a proven set of 20 safeguards for federal networks to regulate cybersecurity in the private sector.
Industry, the Obama administration and both congressional chambers currently debating a long-stalled cyber bill generally agree that any measure must include civil liberties protections and stipulations to speed information sharing. But a major divide has been the issue of the government ordering critical industries to follow security standards.
"I think the hard part is going to be 'So what do you mean by setting standards and how do you do that and how do you get that right?' " Gen. Keith Alexander, head of the U.S. Cyber Command and the National Security Agency, said this week about the remaining legislative hurdle. "That is a tough part because industry and everybody's got some thoughts on that."
The SANS Institute research center has posted on its website a list of "the top 20 things that you ought to fix [on your network] if you're in industry," he noted Monday. "And those are kind of rules of the road." Alexander was speaking at the American Enterprise Institute, a conservative think tank.
According to the SANS site, the 20 measures are intended to focus agencies' limited resources on plugging the most common attack vectors. Among the safety precautions: keeping an inventory of equipment, software and Internet connections, and configuring settings on products to disable potential entry points and enable security features.
Alexander said of standards-setting, "I see a need for that and that's why I point to the SANS Institute and those 20, and I think it's worth looking at" to figure out the right starting point.
The Center for Strategic and International Studies published the baseline in 2009, calling it a "consensus document" validated by private security experts, the Defense Department and civilian federal agencies. The main anticipated audience, at the time, was the federal information security community.
SANS' site has since championed the 20 critical controls as "having a more profound and far-reaching impact" than any other security development.
Alexander said he is not on SANS' payroll.
The FBI earlier this month awarded the organization a contract, without an open competition, to educate cybercrime investigators. In justifying the sole-source deal, bureau officials stated that "although cyber training is a commonly offered product, only the SANS Institute is capable of providing all required courses with an [American National Standards Institute]-accredited certification."