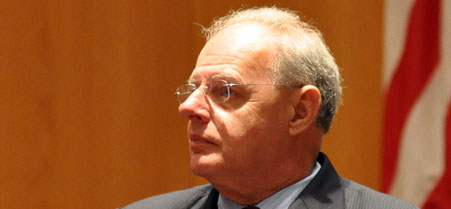 Flickr user veni markovski
President Obama's top cybersecurity official on Wednesday said utilities must pinpoint security gaps in their electricity delivery systems on a regular basis.
The Energy Department, in cooperation with the White House, Homeland Security Department and power companies, this month is expected to test a voluntary reporting model that assesses an individual utility's security posture to identify where safeguards are needed most. As of March 30, the Office of Management and Budget was finalizing information collection procedures for the trial.
The nation's energy sector must perform "active risk management performance evaluations, continuous monitoring, exercises and simulations to determine on a regular basis how we're doing," White House cybersecurity coordinator Howard Schmidt told industry and government leaders at McAfee's annual public sector conference.
As the industry moves toward smart meters with Internet-connected sensors that help utilities and customers economize, it is becoming a hacker target. Thieves can game the system to display less power than the actual amount consumed, while adversaries theoretically could darken cities by breaking into industrial control systems.
After piloting the Electric Sector Cybersecurity Risk Management Maturity assessment model this spring, the government plans to make a template available to the electric sector this summer.
McAfee officials told reporters that the most effective change agent in the power industry has been positive incentives that reward security enhancements, such as tax credits and liability reforms. Also, companies are working with regulators to shift from a blacklisting protection approach that focuses on blocking worms after antivirus programs detect a danger, to a whitelisting approach that allows only a preselected set of downloads, said Thomas Gann, McAfee vice president for government relations.
Phyllis Schneck, chief technology officer for McAfee global public sector, said her firm is building whitelisting features into systems, even computer components.
In his conference remarks, Schmidt also addressed emerging complications for the government's cybersecurity brain trust -- a team that, he said, involves officials from nearly every department. One challenge has been figuring out the motives behind various cyber incidents. "What may be an espionage issue sort of gets commingled with criminal activity," he said. "One of the things that we've had to do is sit there and parse these things out."
Surfing the Web with a virus lurking inside one's computer is becoming increasingly commonplace. The practice of using personal smartphones for office work, known as Bring Your Own Device, or BYOD, creates the potential for even more malware, Schmidt said. "One in 10 Americans has some kind of malicious software on their own devices," he said.