Bill: President could order companies to deploy security fixes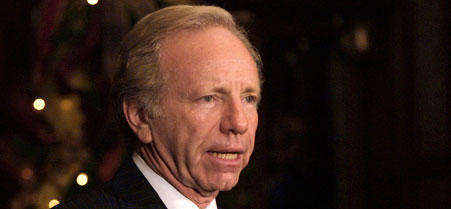 If the president feels networks are under attack, this bill gives the authority to take action, said Sen. Lieberman. Newscom
A much anticipated cybersecurity bill introduced on Thursday would give the president sweeping authority to order companies to take specific security precautions to protect private networks from possible cyberattacks, including, for example, applying a software patch or blocking incoming traffic from a particular nation.
The 2010 Protecting Cyberspace as a National Asset Act would not authorize a government takeover of corporate networks as previously reported, but would allow the president to declare a national cyber emergency and issue emergency measures when the government believes there's a credible threat to the computer systems that support the nation's critical infrastructure such as banks, transportation systems, telecommunications and utilities.
"If the president feels some part of the critical infrastructure is under attack or about to be under attack, either separately or as part of a conflict [the United States is] involved in, this gives the president the authority to take action," said Sen. Joe Lieberman, I-Conn., during a press conference. Lieberman sponsored the bill with Sens. Thomas Carper, D-Del., and Susan Collins, R-Maine.
Owners of critical networks will be able to propose alternative security measures that address the national cyber emergency if the White House approves. They will receive liability protections to ensure they are not held responsible for any fallout that results from complying with security measures.
Networks supporting critical infrastructure also would have to meet established security standards, according to the bill.
The provision has met stiff opposition from industry. "The notion that the government has a better idea than the owners and operators about how to manage risk is not even reasonable," said Robert Dix, vice president of government affairs and critical infrastructure protection at Juniper Networks. "The paradigm needs to change from this kind of top-down push to a collaborative approach," which combines industry's network analysis with government intelligence to create situational awareness of cyber threats, he said.
Collins noted during the press conference that government would not dictate security measures, but rather "establish performance standards and [leave it] up to the private sector to decide how best to meet those standards. " She pointed to financial systems, telecommunications networks and the electric grid as examples of industries that would have to comply with the established security standards.
TechAmerica, a technology lobbying firm in Washington, would prefer a self-certification alternative to a regulatory one, said Liesyl Franz, the association's vice president for information security and global public policy. "An issue is the unintended consequences that could arise from any established set of standards, which does not allow for evolution on a timely basis," she said. "What could be an effective standard today, might not be tomorrow."
The bill also would update the 2002 Federal Information Security Information Management Act by requiring agencies to more actively monitor their computer networks for vulnerabilities and transferring oversight of federal information security from the Office of Management and Budget to the Homeland Security Department.
In addition, it would establish an office in the White House to drive federal cybersecurity policy and review agencies' budget plans and a National Center for Cybersecurity and Communications in DHS that would coordinate cybersecurity efforts across the federal government and with private sector. The center would regularly evaluate the security of federal networks to determine whether agencies are in compliance with guidelines. According to the bill, agencies that fail to take necessary corrective measures could have their computer networks isolated from other departments.
The White House Office of Cyberspace Policy and NCCC would be led by directors appointed by the president and confirmed by the Senate.
The U.S. Computer Emergency Readiness Team at DHS, which is responsible for the collection, coordination and dissemination of information regarding risks to federal networks, would become the primary point of contact for federal, state and local agencies, and the private sector.