When I told friends that I'd be driving across America to find The Cloud, many of them brought up the NSA's Utah data center, assuming it was on my itinerary. Which was understandable—since 2013, it's become a monument to the anxieties of big data and mass surveillance, a black box just out of reach and far beyond comprehension.
I tended to respond to these friends with a little bit of fatigue. It's not that I don't care about the NSA Data Center. It's just that every good story about driving to see the NSA Data Center has been written. It's the infrastructure/national-security writer equivalent of the "Why I'm Leaving This Interesting, But Expensive City" essay. Most of them were written right after the first Snowden stories started dropping, taking advantage of the (slightly) more lax security before the data center became fully operational. Kashmir Hill probably did it best.
But these stories rarely explored why the NSA Data Center was in Utah, a decision that doesn't seem to make much sense, at first glance. Most intelligence agencies' headquarters are in northern Virginia and Maryland. The only other well-known western outpost of intelligence operations, the Texas Cryptologic Center in San Antonio, is about 1,200 miles away from Bluffdale.
As stories about the building's frequent problems with power and water usage came out, the choice seemed even weirder and more arbitrary. Why put the infinite archive of state surveillance in a place so vulnerable to drought? What was the appeal? I kept these questions in mind as I went on my own reluctant pilgrimage to the Salt Lake region's other prominent temple to a controversial faith with a questionable origin story.
* * *
I was skeptical going into this vision quest that I would actually see or find more than previous pilgrims. I also suspected that my question—why is it in this particular place?—wasn't one of interest to people because they were still stuck on the question of why it exists to begin with? My friends who asked if I was going to see the NSA Data Center didn't really care why the NSA Data Center is where it is, they cared that it exists in the first place and they wanted to know how it affects them.
But the former question is really just another way of approaching the latter one. Massive, ideologically circumspect systems like dragnet government surveillance don't emerge from a vacuum. They emerge from coalescing histories operating at multiple scales. They emerge from a state tied to technology history by happenstance, and tied to military history by landscape; from a small city seeking to improve its water infrastructure by making a development deal that may or may not pay off; from a region where depleting water resources are generally a matter of finding a new landscape to decimate.
These stories are smaller than the grandiose narratives associated with The Cloud and with mass surveillance, but they are the stories that remind me that these systems are being created by humans—humans with the best of intentions, acting in their own or their community's self-interest, earnestly trying to build something that might last, while simultaneously insisting on facing the hard, long-term questions another day.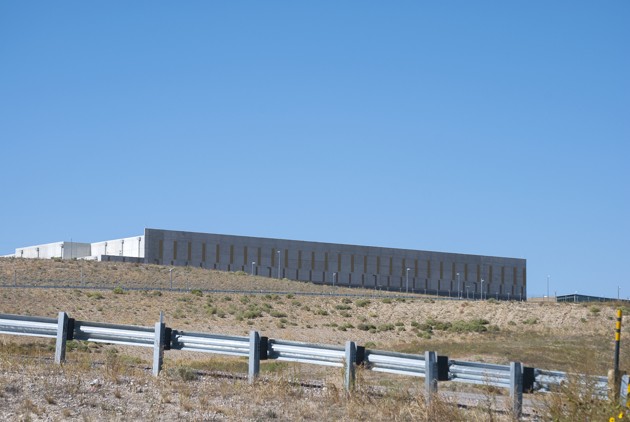 I am not sure whether the NSA Data Center is itself being built to last, or what kind of timespan it hopes to last for. When I finally stood in front of the foreboding signs outside the NSA Data Center I kept trying to imagine it centuries from now, on the kind of timescale that shapes the design of things like Yucca Mountain's nuclear-waste warning signage or the Mormon church's Granite Mountain Records Vault. I tried to imagine future civilizations or aliens, stumbling upon the remains of the data center, undaunted by a security gate and yellow signs. Maybe they would interpret unreadable drives with illegible data as weird fetish objects, the entire compound a weird temple to an incomprehensible cult. Or maybe it would all astonishingly survive, leaving behind a machine-readable-only repository of the present moment as endless metadata.
While technically more a parasite than part of The Cloud, the NSA Data Center is perhaps the weirdest of the flux capacitors in this a historical landscape—rich in history but seemingly the ground zero of zero history. It stockpiles the present for an incomprehensible future. I drove onward, through the unforgiving desert, further into that seemingly unstoppable future perfect, racing against the setting sun.