In response to these seemingly eternal spacecraft, Paglen has produced a series of beautiful, long-exposure photographs featuring geostationary satellites. For "The Last Pictures," however, he went beyond mere documentation, instead finding a way to participate in the same artificial astronomy of which he was once only a spectator.
Paglen attached a specially fabricated metallic disc onto a yet-to-be-launched geosynchronous satellite. It was, as he describes it, "a micro-etched disc with one hundred photographs, encased in a gold-plated shell, designed [to] withstand the rigors of space and to last for billions of years."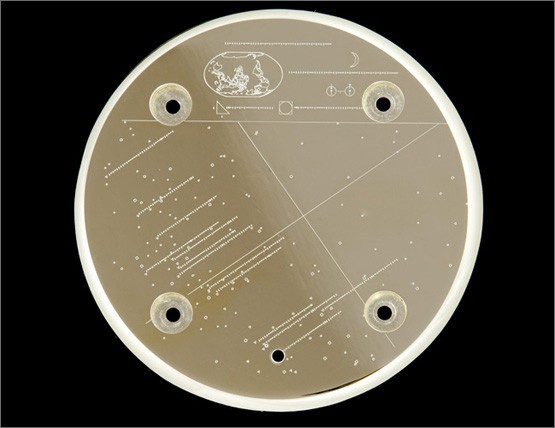 That disc was installed on satellite EchoStar XVI, and successfully launched back in 2012, meaning that Trevor Paglen's "The Last Pictures" is now as permanent a part of the Earth's night sky as the moon and stars, another element in the expanded catalog of artificial astronomical objects that he, Ted Molczan, and their colleagues continue to study.
Much of the intrigue of Paglen's and Molczan's work comes from their brush with the world of top secret and clandestine services, accompanied by all of the elaborate conspiracies such a dark realm entails. A further conceptual resonance comes from the uncanny realization that geosynchronous satellites are so far above the Earth's surface that, from the point of view of human civilization, they might as well be eternal.
Their work gives us a glimpse of the fate of astronomy in one possible far-future scenario, in which a cataclysmic war or pandemic disease reduces humans to technological penury, the records of our world's space programs long since lost to time.
Hundreds, if not thousands, of human generations could pass during which the ability to launch these sorts of artificial moons and orbiting spacecraft will seem so impossible as to sound more like medieval myths of angels or esoteric stories from global folklore.
It is not hard to imagine some determined group of future astronomers gradually honing their observational tools once again in order to peer up at the lights burning far above the Earth's surface every night. Amongst those wandering stars and constellations, however, will be hundreds of fixed points, unblinking lights that never move. These will be the same geosynchronous satellites that people today once studied, and they will spend billions of years in the sky before ever being at risk of falling back to Earth.
That's billions of years of false stars for future astronomers, billions of years of myths and rumors as to what those lights might be—these artificial constellations that never seem to fade—reflecting the sun from on high.
In fact, Paglen himself has taken this sort of fantasy one step further. At a lecture in Amsterdam a few years ago, I listened as he described for the audience a post-human future Earth in which it might actually be deep-sea squid, with their huge brains and ultra-sensitive eyes, who might float up to the surface of the seas on quiet nights to stare at these unblinking lights that appear to follow no laws of planetary motion—and that seem to stare back at them, godlike, in turn.