Watchdog Says Agencies Aren't Tracking How Much They Spend on Smartphones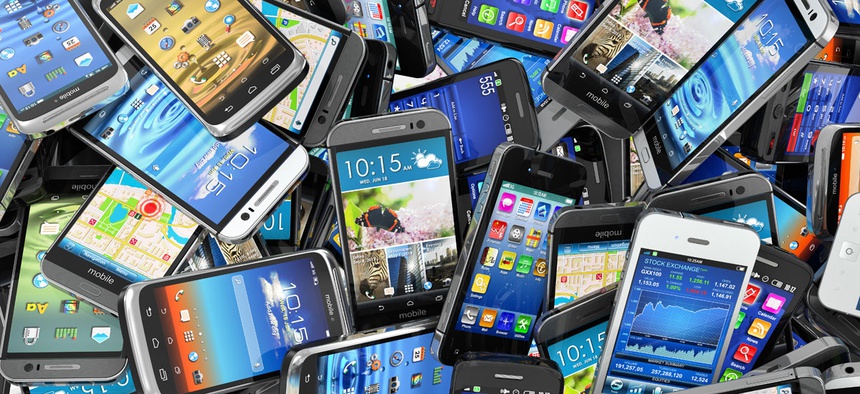 The federal government spends about $1.2 billion each year on circa 1.5 million mobile devices and services.
Federal agencies aren't maintaining complete inventories of smartphones and other mobile devices used by their employees and aren't fully tracking how much they're spending on such gadgets, according to a new report from the Government Accountability Office.
The federal government spends about $1.2 billion each year on circa 1.5 million mobile devices and services, according to an estimate from the Office of Management and Budget. The Interior Department, for example, gives mobile devices to its National Park Service summer employees so they can access email. The State Department hands out mobile devices to diplomats, and the Environmental Protection Agency does the same for teams who are geographically dispersed.
But the agencies managing those mobile device programs often have incomplete inventories, the recent GAO review found.
Only one of the 15 agencies GAO reviewed -- the General Services Administration -- had a system for monitoring spending at the device and service-plan level or for scanning for unused devices, which could indicate inefficient use, the report said. The State Department was not inventorying mobile devices and associated services at the department or component level.
"Without adequate inventories and progress reports, agencies and OMB will be hindered in improving the efficiency of the government's spending on mobile devices and services," the report said.
Agencies are also paying vastly different rates for their services, the report found, based on data submitted to OMB.
The Agriculture Department reported the lowest monthly cost -- $21 for 200 voice minutes, unlimited data and 200 text messages. The Department of Health and Human Services paid the highest -- $121.57 for unlimited voice, data and text.
The Justice Department, the Social Security Administration and the Department of Homeland Security paid $69, $80.56, and $121.57, respectively, for unlimited voice, data and text.
GAO's report details a spate of administration requirements but so far, only spotty implementation by agencies.
In 2011, OMB issued a memo requiring agency chief information officers reduce duplication in commodity services, including mobile devices. The next year, OMB estimated agencies could save about $388 million between fiscal 2013 and 2015 by consolidating mobile device contracts.
The administration's Digital Government Strategy, issued in May 2012, also encouraged agencies to make tech purchases at the agency level, instead of at the bureau, regional, team or individual level, the report said. OMB also required agencies to start inventorying their wireless service contracts by November 2012.
Despite these requirements, the 15 agencies analyzed (those who reported spending at least $10 million on telecommunications in fiscal 2012 or fiscal 2013) were mostly delegating this monitoring to their bureaus or smaller teams, the report found.
Four agencies -- the Environmental Protection Agency, NASA, the Social Security Administration and GSA -- had centrally-managed inventories that included all the agency's major mobile elements, though they weren't always complete. NASA's inventory, for instance, was missing about 1,500 agency-owned devices.
Of the 10 agencies that had delegated inventories to their components, progress varied.
For instance, Justice's Drug Enforcement Administration and the FBI had unique identifiers for devices and tracked the associated service plan for each device. The Commerce Department's National Oceanic and Atmospheric Administration reported that it had a mobile device asset inventory, but it didn't include service plans.
GAO also found that while OMB had identified a goal for financial savings for consolidation of mobile plans, it hasn't actually been measuring progress toward that goal. In the report, GAO noted that OMB's Office of E-Government and IT said the "office had not established targets because they felt agencies are more likely to reduce costs if they are provided information about how their rates compare governmentwide, than if their progress in reducing costs is measured against targets".
By tracking costs saved by mobile device consolidation, the GAO report noted, "OMB would be more likely to have important insight into the effectiveness of its consolidation efforts and the ability to take corrective actions as needed."
OMB and 14 agencies generally agreed with all recommendations or had no comment, while the Defense Department partially agreed, according to comments included in the report.
(Image via Maxx-Studio/ Shutterstock.com)