The Public Participation Playbook Goes Live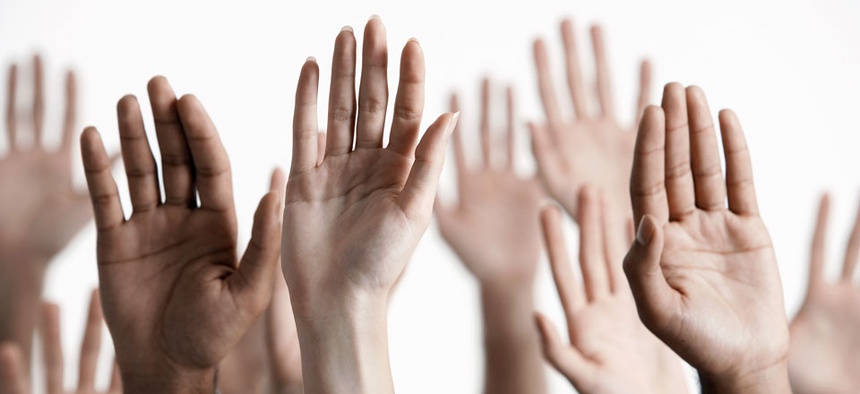 Federal managers need to drop the "if you build it, they will come" mentality when it comes to launching new programs and services. Instead, they need to think about how to engage the public from the get-go.
That's the thinking behind the new U.S. Public Participation Playbook, which went live Tuesday.
The playbook launched after months of work by 70 experts, across dozens of agencies, according to Gwynne Kostin, the General Services Administration's director of digital government.
After publishing the playbook, the authors' first step was to take a play out of their own book -- asking the public for its input on the strategy.
From "clearly define and communicate your objectives," to "transparently report outcomes and performance of participation," the playbook functions as a how-to guide for government managers to actively engage the public as part of their efforts to create meaningful federal services.
Although implementing these plays will likely be a challenge, the concept is relatively straightforward -- the more citizens are given a say in the design of their own services, the higher the likelihood that it will fulfill the public's needs.
"From emergency management, town hall discussions and regulatory development to science and education, better engagement with those who use public services can measurably improve those services for everyone," the playbook states.
"Although we all know it's been discredited that people actually don't come when you build it, we are still doing that," Kostin said Tuesday at the Adobe Digital Government Assembly in Washington, D.C.
"I actually call it launchitis," Kostin said. "We always have to launch something."
She explained that the launch of a new program is only the first -- and relatively speaking, the simplest -- step in the life cycle of a new initiative.
And asking the public for devoted engagement only when a new project is born will likely not breed the steadfast participation expected.
Engagement with the public cannot come in short spurts, Kostin said, but must be cultivated and grown for a long time.
"You can't say, 'Today, I want to be engaged,' and expect a lot of people to show up," she said. "It's really developing those relationships ahead of time and doing the work before so that you actually have that group of people or have access to people who you want to have engagement."
The playbook was also born of the federal sphere's movement toward a more open and transparent government.
The Obama administration deemed creating the playbook an "open government priority," and it was featured in the first two Open Government National Action Plans.
GSA officials released an early draft of the playbook in late November, again to give the public a chance to chime in.
But the chiming won't stop simply because the playbook is live.
"This is only the beginning ... we hope the plays will quickly expand and enrich," the introduction to the playbook states.
(Image via bikeriderlondon/Shutterstock.com)