US Visitor Surveillance System Brings Some Solace to Families of MH17 Victims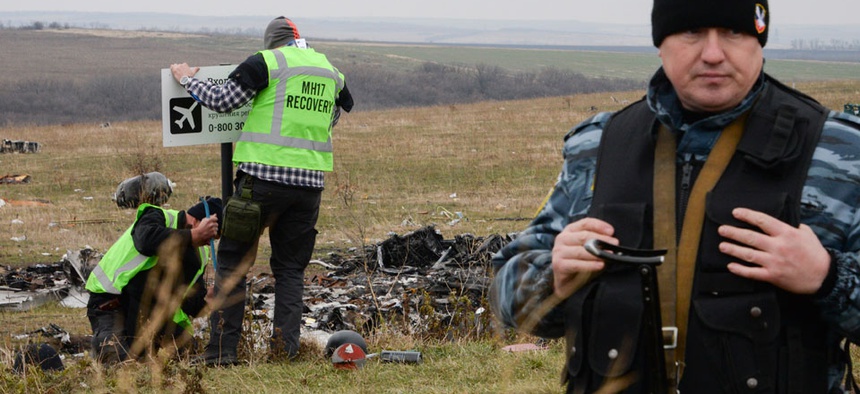 A database that houses the fingerprints of almost all foreign visitors to catch terrorists recently was used for a different purpose -- bringing closure to bereft families.
A Department of Homeland Security database that warehouses the fingerprints of almost all foreign visitors to catch terrorists recently was used for a different purpose -- bringing closure to bereft families.
U.S. authorities checked the system's records against residual, or "latent," prints left behind at the Malaysia Airlines Flight 17 crash site. As a result, DHS was able to help identify "a few" victims of the July 2014 disaster in Ukraine, department officials said. 
A mission to identify all 298 MH17 passengers and crew is being led by the Dutch National Forensic Investigations Team, which lost 193 fellow countrymen and women. 
"Our fingerprint examiners were actually able to go through and search our database and found possible latent print matches," said Ken Fritzsche, director of the identity technology division at the DHS Office of Biometric Identity Management. 
The positive matches were relayed to the FBI, which has been aiding the recovery effort. The FBI, in turn, passed on the victims' names to the Dutch investigators.
"It essentially eliminated the need for family members to have travel to the Netherlands and identify remains," Fritzcshe said. He spoke Tuesday at the 2015 Biometrics for Government and Law Enforcement conference.
On Friday, FBI officials confirmed DHS' account and said U.S. biometric databases helped put a name to deceased individuals from multiple countries
Stephen Fischer, a spokesman for the FBI division that runs the bureau's facial, fingerprint and iris databases, collectively called the Next Generation Identification system, said, "The FBI requested the recovered fingerprints be compared against multiple databases such as the FBI's NGI database, the Department of Homeland Security's biometric database and other foreign fingerprint databases."
He added the "searches resulted in numerous individuals of multiple nationalities being identified through fingerprint analysis."
FBI and DHS officials would not provide specific statistics.
Fritzcshe's office, formerly the U.S. Visitor and Immigration Status Indicator Technology Program, was established in March 2013, to help America detain foreigners who pose a risk to the United States. 
On Thursday, The Australian reported an international team next week will revisit the crash site one last time, in hopes of spotting the remains of three passengers still missing. The unaccounted-for victims are all Dutch. The 295 other fliers included U.S., British, Australian, German, and Malaysian nationals, among others.  
MH17 allegedly was hit by a ground-to-air missile operated by pro-Russian separatists. 
The plane went down in a region contested by Ukrainian and pro-Russian militants. The trip had originally been planned for December 2014, but was postponed because of the ongoing conflict and bad weather.