People Are Already Pawning White House Easter Eggs on eBay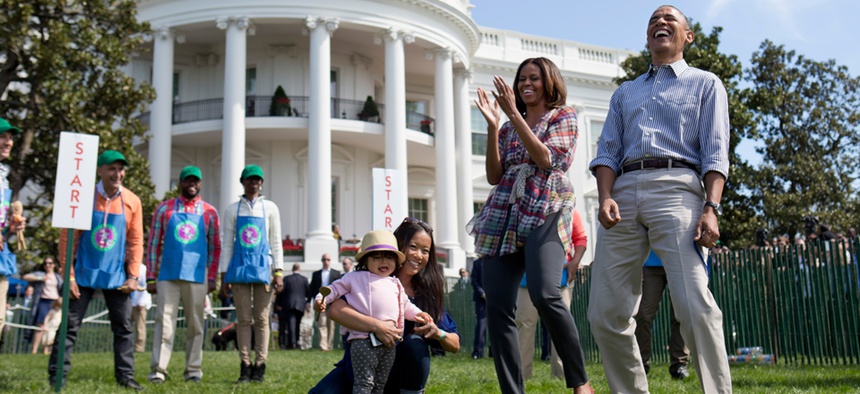 Let's say you just spent a sunny morning at the White House, watching your kids jab at brightly colored eggs with a wooden spoon, scooting them down the perfectly manicured South Lawn. You posed for photos with the Easter Bunny, and maybe caught a glimpse of the president in the crowd. This is a day you want to remember, so when you get a commemorative White House Egg to take home, you want to put it somewhere safe, right?
Not quite.
For some attendees of the 136th annual White House Easter Egg Roll, those souvenir eggs belong on the Internet. With a few hours to go before the event ended on Monday at 5 p.m., some of the commemorative wooden eggs had already made their way onto eBay.
This year's White House Easter eggs came in four colors, and were boxed up along with Barack and Michelle Obama's stamped signatures. A purple egg bearing the visages of presidential pooches Bo and Sunny was also given out to attendees. All five can be purchased online through a National Park Foundation website, but some eBay users are hoping to sway potential customers.
The cheapest deal on eBay, at the time of this writing, is $1.75 for a pink egg. "Here's your collectible piece of history!" reads the listing, which has three bids so far.
There are only 17 hours left to buy this egg stamped with the Obamas' dogs (box included). Want all five? You have four days to come up with $60 for this one seller. Feeling extra egg-cited? You can buy this year's and last year's complete sets, too.