How Technology Will Topple the World's Biggest Drug Cartel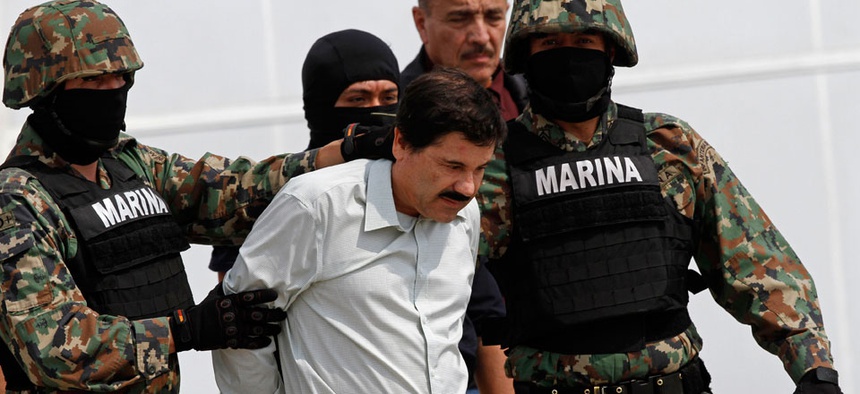 An upgrade of the information technology systems running the nation's financial intelligence wing -- set to finish this year -- should bolster efforts to dismantle the Sinaloa cartel, now that authorities have captured the enterprise's leader, former top U.S. officials say.
Mexican authorities over the weekend announced the arrest of narcotics kingpin Joaquin "El Chapo" Guzman, who helmed what has been described as the world's largest drug-trafficking business. He had been on the run for 13 years.  
"The extent to which we're seeing greater activity and ideally greater effectiveness in our targeting is clearly going to be in part due to improvements in IT," Chip Poncy, the Treasury Department's director of strategic policy for terrorist financing and financial crimes until last spring, said during an interview.
Treasury's Financial Crimes Enforcement Network has been undergoing a computing overhaul since 2010. According to FinCEN officials, the project will "provide a modernized IT foundation to collect, store, safeguard, analyze, and share data collected," in compliance with privacy regulations to, among other things, dethrone drug lords.
The $120 million software and hardware overhaul is on budget and expected to be finished later this year, according to a September 2013 Treasury inspector general report. 
Poncy pointed to a recent, in his words, "huge" development with Mexico that will hinge upon IT.
 
In October, Treasury officials announced a memorandum of understanding between FinCEN and Mexico's National Banking and Securities Commission to share supervisory information on money laundering and terrorist financing activities.
To the extent that "they are looking at the Sinaloa cartel -- and you can bet they are, through the reporting coming from Mexican financial institutions -- and they are able to share some of that with FinCEN analysts and vice versa, well all the information that we're looking at just got doubled," Poncy said. 
 
Authorities must still get a handle on the remnants of Guzman's empire, which is expected to survive under partners like Ismael "El Mayo" Zambada. 
Guzman reportedly  had used loopholes in FinCEN procedures and other financial-tracking policies to make dirty money look legitimate. 
 
With the help of FinCEN's new IT backbone, Treasury last year successfully targeted members of the Sinaloa organization, including Guzman's father-in-law, to unravel the cartel's holdings and support structure, officials say.
As FinCEN's technology infrastructure advances, intelligence reports are transforming from essentially annotated search results to real analyses, Poncy said.
Prior to the technology upgrade, in a rough sense, "we looked in the database, and we used the term 'Sinaloa,' and we found 300 reports. Two hundred were from banks, 170 were from last year," Poncy said. "You get sort of an annotated list. It doesn't really help you a lot."
 
Now, the IT setup can synthesize information from multiple sources to provide leads: "We conducted analysis based upon the following methodology -- we did a search along these lines; we did link analysis; we integrated that with other information we were getting from our interagency colleagues; and based on that we're looking at these dots, put together in a sort of a network, that has identified the following seven individuals of primary concerns," he said. "That's a totally different report."

Frank Cilluffo, director of George Washington University's Homeland Security Policy Institute, said the agency, going forward, should visualize how a transnational enterprise moves its products and functions as an organization.
"I think FinCEN can play and probably has played a significant role in putting together those snapshots," he said. "What I think the role that FinCEN and others can play is to try to get the equivalent of your 10-K filing, what we have for legitimate companies, but in this case illicit companies, and from there once you kind of have that greater snapshot you can identify areas that law enforcement" can exploit.
FinCEN spokesman Stephen Hudak declined to comment on any potential or pending investigatory actions or methods.
"The criminal activity Guzman allegedly directed contributed to the death and destruction of millions of lives across the globe through drug addiction, violence, and corruption," Attorney General Eric Holder said in a statement. "We are pleased that we were able to work effectively with Mexico through the cooperative relationship that U.S. law enforcement agencies have with their Mexican counterparts. We look forward to ongoing cooperation, and future successes."
Get the Nextgov iPhone app to keep up with government technology news.