Domestic drone backers worry about privacy and security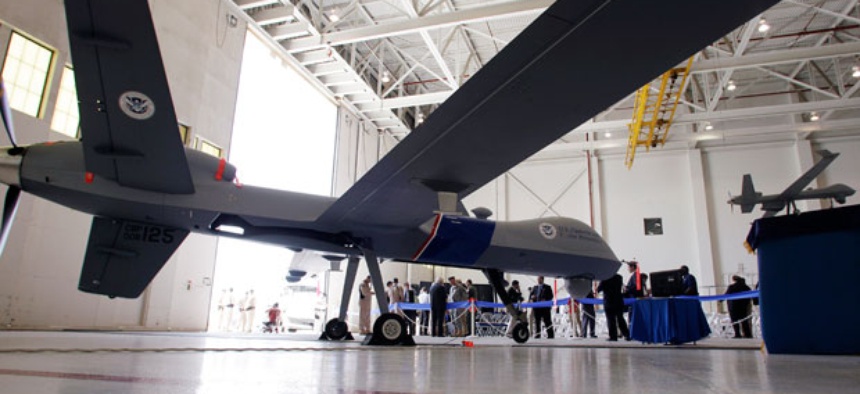 A peculiar contingent is raising questions about the risk of populating U.S. airspace with remotely piloted aircraft: drone proponents. Lawmakers who voted to expand the use of domestic drones, and even the unmanned aviation industry, are promoting heightened regulation of espionage practices. 
Within the span of about two weeks in July, the Association for Unmanned Vehicle Systems International issued a code of conduct and backed a defense spending bill that would restrict the government's use of drones for surveillance. Lawmakers who, in February, mandated that the Federal Aviation Administration permit more drones to fly stateside voted in June to ban weaponized ones. 
"It did seem curious to me that there are a lot of Congress people who are concerned about the security and privacy issues. I wonder where they were during the debate over the FAA bill," says Jennifer Lynch, an attorney with the Electronic Frontier Foundation, a civil liberties group. 
She suspects publicity surrounding the recent successful hijacking of an aircraft's navigation system by University of Texas students unsettled some drone champions. Unmanned planes are dependent on civil Global Positioning System signals, which, unlike encrypted military GPS signals, can be manipulated to provide false readings. At White Sands Missile Range in New Mexico in June, UT researchers showed authorities—at the request of Homeland Security Department officials—that a drone GPS receiver can be tricked into believing it is flying too high so that the aircraft will lower its altitude and consequently crash into the ground. 
In Congress, "I think they are all a little scared by that University of Texas experiment," Lynch says. Rep. Michael McCaul, a Texas Republican and avid proponent of using drones to monitor U.S. borders, invited one of the scientists to testify on GPS spoofing at the House Homeland Security Oversight, Investigations and Management Subcommittee, which he chairs. 
DHS officials declined to appear at McCaul's July 19 hearing, which largely focused on the department's role in protecting citizens from drone abuse. There is bipartisan concern that remotely piloted
planes will capture personal information, fall victim to hackers—or worse—when the FAA law takes effect in 2015.
Customs and Border Protection operates about 10 drones to police illicit activity along the nation's borders and its neighboring seas. But, increasingly, other government agencies are borrowing DHS drones or procuring their own to scout populated areas without the department's supervision, lawmakers complain.
In September 2011, government officials arrested a man in connection with a plot to attack Washington using bomb-hauling, unmanned aircraft. "We had a man who tried and attempted to use this drone, but was thwarted by the FBI, in an attempt to blow up the Pentagon and the U.S. Capitol," McCaul said later in July at a full committee hearing. 
McCaul maintains his concerns about the safety of drones have always existed. "We are less than two and a half years from our skies opening up to widespread use of drones by law enforcement and the private sector and no federal agency has taken the lead to address security and privacy," he told Government Executive in an email. "This is the responsibility of the Department of Homeland Security, and as chairman of the subcommittee with oversight jurisdiction it is my job to ensure DHS addresses these concerns. The department needs to provide guidance on security and privacy now, in advance of this proliferation, not after the fact." 
Civil liberties groups are puzzled as to why DHS has not conducted a privacy impact assessment, which is required for information-collecting projects, that would explain controls protecting stored data, how long that data is retained and the procedures for deleting it. The fear is images of regular citizens and property, which are unavoidably captured during scouting missions, may be exploited.
When asked whether Homeland Security will conduct an assessment or update privacy policies, CBP officials said there are established, clear protocols regarding aerial surveillance to ensure that privacy and civil rights are protected while the agency is executing its mission. In addition, they said, the agency treats video from manned and unmanned aircraft the same way using existing evidence handling policies. 
The Guardian, a maritime version of Homeland Security's domestic Predator drone, has the same sensor and radar technologies already used on piloted aircraft. And the Guardian's camera is very similar to the ones on board many of Homeland Security's other planes. 
Lynch, however, says the old policies for manned aircraft may not translate to planes that are monitoring people from afar. "I do still think they need to conduct a [privacy impact assessment]. Even if they are using the same sensor technology on manned aircraft, I would believe it is being collected differently and they may be combining that information differently," she says. 
Others in Congress are moving to outlaw weaponized drones at DHS. In June, 217 Republicans approved a department spending bill that would "prohibit the use of funds for the purchase, operation or maintenance of armed unmanned aerial vehicles." In February, these same lawmakers had called on FAA to pick up the pace in opening up the friendly skies to more domestic drones. 
Spokesman Mike Rosen says McCaul generally opposes weaponizing stateside drones, but right now it is unclear what "weaponizing" means—"Lethal? Non-lethal? Tear gas? Missiles?"—because the technology is not fully developed.  
For its part, the Association for Unmanned Vehicle Systems International, on behalf of drone vendors and operators, met with privacy groups several months ago, including the Electronic Frontier Foundation. Speculating on the distribution of a page of principles soon after, Lynch says, "I think the AUVSI has been trying to improve their image. I don't think they realized they were going to have such negative publicity."  
Association officials say they are committed to incorporating drones into the national airspace in a safe and responsible manner. "Like with any new technology, there is reasonable concern over how that technology can and should be used," association president Michael Toscano said in a statement. "That is why the industry recently adopted a code of conduct, which places safety, professionalism and respect as the guiding principles for those who design, test and operate" unmanned aerial systems.
He added the systems actually can improve public safety. "UAS could be a critical tool to help firefighters battle wildfires, Border Patrol agents monitor and protect our borders, and emergency responders mitigate the impact of natural disasters such as hurricanes or floods," he said. "The UAS industry is confident that we can protect individuals' privacy and ensure the safe operation of UAS, while also unlocking this technology's potential to save time, save money and even save lives." 
The organization backs legislation that would require drone operators to comply with Fourth Amendment protections against unreasonable searches. 
A Pentagon spending bill the House approved in July includes a clause sponsored by Rep. Frank LoBiondo, R-N.J., that would uphold this constitutional safeguard. In introducing the measure, LoBiondo said, "While funding for these platforms is critical for our nation's intelligence activities, these normal operations will not conflict with our constitutional protections against unreasonable searches. This language would ensure that there is no misperception about the department's use of these technologies."