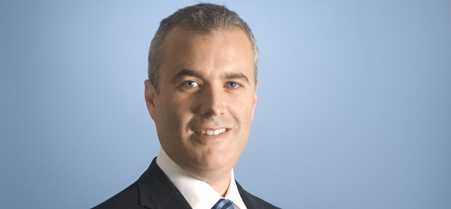 OMB's Jeffrey Zients said that government IT projects "often fail to deliver promised results." Jennifer Trezza/Nextgov
The White House will review all technology projects that are behind schedule or over budget and halt those deemed too risky, starting with all plans to modernize financial systems, according to two memos the Office of Management and Budget released on Monday.
Within 30 days, federal Chief Information Officer Vivek Kundra will issue guidance on the review process for the highest risk IT projects, according to one of the memos . Agencies must submit improvement plans for projects that are behind schedule or have gone over budget, and "where serious problems are identified and cannot be corrected, further actions should be taken, including potential adjustments to fiscal 2012 agency budgets," according to the document.
"Too often, we don't get returns on our IT investments," said OMB Deputy Director for Management Jeffrey Zients during a conference call with reporters. "Yes, there are pockets of strong performance, but in too many situations, our IT projects run over budget, behind schedule and often fail to deliver promised results."
Kundra, who also was on the call, pointed to the Defense Department's failed effort to deploy an integrated human resources system as "an example of how broken federal IT is." The initiative spanned 12 years and cost the department $1 billion.
In another example, he said a program at the Small Business Administration to issue smart cards to employees for identity management cost $1,614 per card issued. OMB halted the contract. Now SBA will be purchasing the same smart cards for $240 each through a General Services Administration procurement vehicle.
To ensure future IT projects don't face the same cost overruns and delays, OMB pledged to develop recommendations within 120 days for improving IT procurement and management practices. That includes strengthening existing policies and procedures, eliminating outdated and cumbersome rules, and focusing on best practices from the public and private sectors, according to the directive. Among the recommendations will be higher standards for project management practices and personnel, additional mechanisms for holding managers accountable for results, and more rigorous review processes.
"The overall effort is to make sure $80 billion spent on IT each year is spent in a way that has much higher returns in efficiency of operations and service quality," Zients said. "This is not about cost reduction, but better return on taxpayer dollars."
A separate, related memo halted all new task orders or procurements for financial system projects with $20 million or more in planned development or modernization spending. It ordered agencies to provide within 60 days revised project plans that outline how they can reduce costs and risks and shorten the project timeline.
"Right now we have many financial systems in place that are operating in a steady state, doing basic accounting, and that won't change," said OMB Comptroller Danny Werfel. "What we're saying is that new, future investments in financial systems will be halted until agencies can show a better path forward."
According to a blog post by OMB Director Peter R. Orszag, an estimated 30 financial systems projects costing the federal government about $3 billion annually are affected by the new policy. Among them are two projects at the Veterans Affairs Department, which has invested more than $300 million over the past decade in the failed systems.
"While a productivity boom has transformed private sector performance over the past two decades, the federal government has almost entirely missed this transformation and now lags far behind on efficiency and service quality," Orszag said in his blog post. "We are wasting billions of dollars a year, and more importantly are missing out on the huge productively improvements other sectors have benefited from."